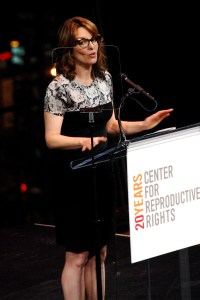 "As Matt Lauer once said in the sixth hour of The Today Show, I can't believe we are still talking about this shit."
Last night, The Observer attended an event that most of the other guests agreed should not have existed. Filo pockets and mini spring rolls should not have been served to the dignified attendees in their little black dresses. And they, in turn, should not have been drinking glasses upon glasses of wine while engaging in pleasant conversation. Quite frankly, we should not have been standing there at Jazz at Lincoln Center at all. But in spite of innumerable efforts to educate the dissenting public, the issue lingers—so there we were, standing at Jazz at Lincoln Center. 
The Center for Reproductive Rights' 2oth Anniversary Inaugural Gala began with a speech by a bespectacled Tina Fey; the skyscrapers of New York flanked her back through large, dominating windows, which served to make each succeeding female speaker—and one Stanley Tucci—however celebrated, look very small.
The center was founded in 1992 as the only global legal advocacy organization exclusively devoted to defending and advancing (women's) reproductive rights. At the gala, the organization honored Michelle Bachelet, under-secretary-general of the United Nations, executive director of UN Women and former president of Chile, as well as Amy W. Schulman, executive vice president and general counsel, for their contributions in this arena.
After Ms. Fey's speech, which included a reading from Bossypants detailing her first trip to the gyno, and an impression of Sissy Spacek doing an impression of Loretta Lynn, a promotional video of sorts played above her head. It included three "real-life" stories, numerous female celebrities and a Kevin Bacon cameo, all urging us to do that which should have already been done 20 years ago.
How times haven't changed.
Mr. Tucci, who has long been involved with the efforts of Planned Parenthood, took the stage to vehemently express his hopes that there would not be another event next year, his uncomfortably serious face magnified on two flanking TV screens. The crowd of people clasping their glasses and crunching on beet chips stared at him with unusual focus.
Guest Janeane Garofalo was slightly and refreshingly more casual on all counts. Wearing knee-high moccasin boots, a cotton leopard-print dress and a somewhat unrecognizable countenance, she explained that she was in attendance because she had been invited.
We nodded, as so were we.