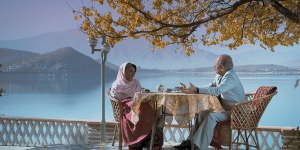 Afghanistan has no film industry, which makes a new movie called The Black Tulip, about good people seeking some kind of normal life in modern Kabul despite the constant threat of violence, destruction and despair, doubly dangerous to have made and inestimably valuable to watch. Filmed entirely in a country where women's rights are still tested daily and cameras are so verboten that even a tourist's throwaway Instamatic is an invitation to trouble—and produced, written and directed by a woman, no less!—this is a gripping experience as politically enlightening and emotionally involving as it is educational and beautiful to look at. 
Writer-director Sonia Nassery Cole is an Afghan-American activist and filmmaker whose family fled to the U.S. to escape the invasion of Soviet troops in 1979, when she was 14. Three years later, having experienced first-hand the repression by a radical government as a child, she began her mission to free her country from tyranny—from the Russians and from the Taliban—by enlisting the aid of President Ronald Reagan and the United Nations. Working throughout the 1980s to aid the Afghan resistance movement, she raised millions to rebuild the lives of Afghan refugees and established the nonprofit Afghanistan World Foundation to provide care for land-mine victims and build a women and children's hospital. With the new resurgence of Taliban terrorism, Ms. Cole's role as an activist has accelerated to such a degree that I have no idea how she found the time to make a feature-length movie. When the leading actress had her foot amputated prior to production—according to the director, though this claim has been contradicted by Latif Ahmadi, head of the Afghan Film as well as the movie's local casting director—Ms. Cole took over the role herself, and she is wonderful in it. Somehow, despite constant death threats and a bomb blast at her Kabul hotel, she finished The Black Tulip. The result is a remarkable film that shows the cultural heritage and everyday values of a courageous people united in a quest for family, faith and freedom.
The movie begins in 2001 with the retreat of the Taliban after 30 years of war, five of them under their deadly rule. Kabul is liberated and ready to savor freedom at last. A vital, arresting portrait of a modern city emerges, replete with pollution and gridlock traffic, but leavened by the fact that it is a place where a child can still laugh while flying a kite. The Mansouri family, guided by a matriarchal force named Farishta (beautifully played by director Cole) and her strong, devoted husband Hadar, will do anything to keep their two children from ever going back to a refugee camp. During the Soviet occupation, Farishta watched as her father was murdered and his book store, The Poet's Corner, a symbol of literature and learning, was torched. Now, in the spirit of their new happiness and hope, the family reopens the old shop as a restaurant with the same name. Serving good food on linen tablecloths with crystal wineglasses, with a miked stage for poets and artists to read poems and sing songs that have long been condemned, The Poet's Corner take two is an overnight sensation. The Mansouris are soon catering meals for the American military base, while the artists, whose voices have been silenced for years, form lines outside the door—two facts that also attract the attention of dark Taliban forces that still exist in the shadows, waiting to pounce. In no time, mysterious government "inspectors" arrive, offering "protection" from hostile elements. There's more sadness and death on the way.
But The Black Tulip is not a war picture. It's about the resilience of admirable people in a changing world. Girls still gossip and flirt. Students still wear burkas but they also carry backpacks ordered on the internet. Boys still play the centuries-old game of Buzkashi on horseback like the ancient Afghan tribes, but they do it in tight blue jeans. In the Mansouri family, Farishta's beautiful, 24-year-old sister Belkis may come from an old respected family, but she is intelligent and independent, with progressive ideas of her own, while Akram Zabuli, her handsome, contemporary fiancé, has a father so steeped in tradition that he pleads for his wife to wear the old-fashioned burka and cover her face. Akram's father believes a woman's place is in the home. Conversely, Belkis's family fully understands and encourages her goal—to finish medical school and open her own clinic. While these differences are resolved, the traditions of an Afghan wedding in a mountain village overlooking the rugged scenery of the countryside—still beautiful even after years of war—unite everyone with hauntingly beautiful music and festive costumes. But heartbreak ensues when the ceremony is disrupted by terrorists, and peace-loving Hadar is then forced to compromise his own pacifist views to take a stand—to save his restaurant and his family's future.
Despite the inevitable tragedies that befall the Mansouris, the movie ends with a surge of optimism. Both sides of every issue are examined—old loyalties vs. new compromises, Western ideas vs. Islamic principles, the resentment of American presence vs. the ensuing fear that if the American military leaves, chaos will follow. The narrative is fictional, but rooted in truths that are self-evident. From the leading characters to the tertiary roles of dedicated waiters and customers to evil Taliban insurgents, the actors are perfect, without a false move in sight. Like The Poet's Corner restaurant, Sonia Nassery Cole's screenplay is a megaphone for freedom of expression. The title The Black Tulip is a stretch. There are no tulips in sight, black or any other color, and if anyone explained it in passing, I missed the subtitles. Consulting the film's publicist, a fount of information, I have learned that the black tulip, blooming under the harshest conditions in the Pamir and Hindu Kush mountain regions of Afghanistan, is a symbol for the nation's spirit. Growing amid ice and stone, the flower, much like the people, is able to prosper and survive against all odds. These are qualities the unconquered citizens of the country have possessed for centuries. The film is a deeply heartfelt experience that addresses the struggles of everyday people in a strange land most of us know nothing about. You will not go away unmoved. See it, and learn something.
rreed@observer.com
THE BLACK TULIP
Running Time 116 minutes
Written by Sonia Nassery Cole and David Michael O'Neill
Directed by Sonia Nassery Cole
Starring Haji Gul Aser, Sonia Nassery Cole and Walid Amini
3/4