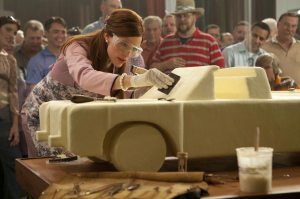 Butter hasn't had this much attention on the screen since Marlon Brando thought up new X-rated things to do with dairy products in Last Tango in Paris. No artery clogging to fear in the clumsy, uneven farce called Butter either. Like The Oranges, it first appeared a year ago, at the 2011 Toronto International Film Festival, and it's been on the shelf ever since, yellowing with age until it looks more like margarine.
The first hour of Butter is funny, irreverent and full of satirical promise about America's obsession with greed and competition. The targets of its parody are often more vulgar than clever, but before it eventually falls apart and hits the frying pan, it paints a picture of American home economics that is occasionally hilarious. This time the prize worth killing for is not the World Series trophy or the Miss America crown, but a championship blue ribbon in the competitive cutthroat world of—are you ready?—butter carving! In the profound state of Iowa, where corn comes from, Bob and Laura Dean Pickler, the royal family of butter, have an unbeaten record for creating masterpieces like a complete re-creation of Schindler's List and a legendary life-size replica of The Last Supper, which the Des Moines Register called "better than the original!"
But now, after a 15-year winning streak, the judges decide it is time to pass the crown on to somebody new, forcing Bob Pickler (Ty Burrell) to reluctantly hang up his butter knife. "It's time to give back," he says—"like Oprah." This is an unacceptable defeat for his wife Laura (Jennifer Garner), who has always dreamed butter would someday lead to the White House, and for whom losing is out of the question. So without much experience (it was Bob who did all the work carving Newt Gingrich and a T. rex eating a girl) she embarks on a ruthless mission to enter the Jackson County Butter Carving Competition by herself and restore the family legacy. Her only two serious opponents are a 10-year-old black orphan girl named Destiny (Yara Shahidi), whose proud but clueless adoptive parents (Rob Corddry and Alicia Silverstone) egg her on, oblivious to what awaits their new daughter in a contest ruled by rednecks, and a tattooed goth hooker (Olivia Wilde) who enters the race disguised as a born-again Christian. Let the one-liners begin.
The screenplay by Jason Micallef rocks along like a broad, razor-sharp parody of screwball American values in a mean-spirited skit on Saturday Night Live, but due to the over-the-top direction of Jim Field Smith, the barbs don't always hit their mark. Midway through the contest, the movie turns downright crude when the foul-mouthed prostitute seduces the Picklers' restless, cynical teenage daughter—who grouses, "I can't wait for everyone to just die from global warming," but delights in lesbian sex with surprising enthusiasm. More shock arrives with a guest appearance by multitalented cover boy Hugh Jackman as an oversexed, pot-bellied (!) used-car dealer in a cowboy hat, dispatched by Laura to sabotage the little girl's chance of winning in exchange for some lurid humping of his own. The hooker also goes to bed with uptight, straight-laced Bob, Laura goes to bed with her old high school lover, and the movie turns sentimental when the judges turn to marshmallow after some villain breaks into the State Fair butter pavilion and melts the sculpture of the soft-spoken child, who seems to be the only African-American in Iowa. (You can just imagine what a blowtorch does to Land O'Lakes.) The best thing about Butter is the discovery of an eviscerating talent in first-time scriptwriter Jason Micallef. He cuts through the cracker barrel eccentricities of Grain Belt humor as easily as a knife slices through a baked potato. And it's good to see Jennifer Garner tackle the farcical elements; her clothes and speech and political bulldozer Tea Party fearlessness is a whimsical sendup of Sarah Palin. Unfortunately, the absurdity falters sadly in the final showdown, and all attempts to make sly comments about race, class and age differences collapse.
The film was shot in Louisiana, which looks nothing like Iowa. Nobody along the way seems to have a care in the world about cholesterol. And it's the first movie in history that makes Hugh Jackman look repulsive. But the take-home moral of the movie is that butter carving makes for a great contest. If you don't win it, you can always eat it.
rreed@observer.com
BUTTER
Running Time 99 minutes
Written by Jason A. Micallef
Directed by Jim Field Smith
Starring Jennifer Garner, Yara Shahidi and Ty Burrell
2/4