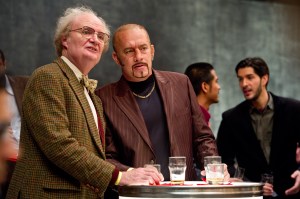 Almost three hours long, a lugubrious sludge of mud soup called Cloud Atlas deserves a limp nod for pure guts, I suppose, but what I'd really like to do is burn it. Based on a genre-switching, era-hopping, style-abusing, tempo-thumping novel by David Mitchell that everyone has always labeled "unfilmable," the labyrinthine, ridiculously bloated—$100-million, anybody?—head-scratcher of a movie is the mess that proves it.
Coming at us in sections like an exploding garbage truck, this adaptation is a single film that weaves an incomprehensible literary gumbo of unrelated stories in multiple time frames over a span of 500 years. Whew! In spite of the publicity poop about how six narratives are linked by the connective tissue of man's relationship to man, nothing really intersects—except in preposterous threads only a nuclear physicist could formulate on both sides of an equation. All you can do while you puzzle over it like a board game is try to figure out which member of the hammy all-star ensemble, unrecognizable in lurid makeup, wigs, period costumes and rubber prostheses, is playing which man—or woman—while the viewer-unfriendly screenplay squirts and splatters all over the place. Characters fade into and out of past, present and future centuries with the grace of a battering ram. They include Tom Hanks, in his worst performance since Joe Versus the Volcano, as a crooked doctor who looks like Benjamin Franklin on the Pacific Ocean in 1849; a balding cockney skinhead who becomes a pop celebrity by throwing a critic off the roof of a literary party in 2012, and a dark-skinned one-eyed native goat-herder (you can't make up this stuff) in post-apocalyptic Hawaii, in 2346, babbling away in a language that hasn't been invented yet. Ben Whishaw is a gay composer in 1930s England who writes about his own murder in a diary; Halle Berry plays one of the last survivors of a lost civilization in 2346 as well as a crusading journalist in 1973 San Francisco, trapped in a stalled elevator in the middle of a power outage, whose life is endangered when she gets a scoop on a nuclear reactor meltdown, and then saved by the lover Whishaw wrote to in his lost journals back in 1936; and the marvelous Jim Sturgess is a robot warrior from a futuristic planet called New Seoul in 2144 who is persecuted for falling in love with a sexy, socially outlawed, genetically cloned slave. Susan Sarandon plays a medicine man. Faring best of all is Hugo Weaving, as a vicious Nurse Ratched wreaking havoc on a senile publisher in a nursing home, played by Jim Broadbent. Mr. Weaving has had plenty of experience. He was one of the drag queens in The Adventures of Priscilla, Queen of the Desert. There's more, but I hesitate to make you feel as tortured reading about it as I am telling you about it.
The book wove the various stories into each other like a lap dissolve, relating each sequence as it was being read by the person in the next chapter. In the movie, the jumble of aborted narratives crash and thrash like carnival bumper cars, fragmented and pointlessly failing to find a common theme. "Our lives are not our own—from womb to tomb, we are bound to others," drones the narration, but as co-written and co-directed by Germany's Tom Tykwer (Run Lola Run) and siblings Andy and Lana Wachowski, who created the abominable Matrix trilogy, the movie is a trash heap of rubber noses and implausible high school accents that give new meaning to the word "pretentious." The actors are a game lot, but they should have stayed in bed. It's ambitious and massive and fascinating to watch, like a public hanging. The sets, especially in the futuristic sci-fi thriller section, are inventive, and the real star is editor Alexander Berner (Resident Evil) for cobbling it all together. But the effect of so many characters and so many unsatisfactory plotlines is curiously bland and inconsequential. At the end of nearly three hours of metaphysical hocus pocus destined to attract the smallest number of paying filmgoers imaginable, you don't know whether to laugh, boo or write career eulogies for all involved. I mean, Hugh Grant as a bloodthirsty cannibal? The prosecution rests.
rreed@observer.com
CLOUD ATLAS
Running Time 172 minutes
Written and Directed by Tom Tykwer, Andy Wachowski and Lana Wachowski
Starring Tom Hanks, Halle Berry and Hugh Grant
1/4