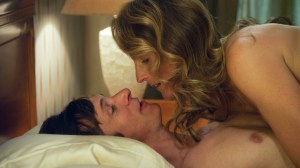 Sex and the disabled may still be a difficult topic to some, but at the movies it's a hot-button theme whose time has come, with numerous examples of candor on film. The Sessions, a wonderful movie with splendid performances by John Hawkes and Helen Hunt, as well as a careful and sensitive screenplay and flawless direction by writer-director Ben Lewin, is the best movie about the pain, ecstasy and life-enriching courage of a handicapped person that I have seen since Jon Voight's Oscar-winning work in Coming Home. Put aside all reservations. You will love this movie and go away from it informed, enlightened and positive about the sustaining power of the human experience.
This is the true story of Mark O'Brien, a Berkeley poet and journalist who was paralyzed by polio at the age of six and confined to a horizontal position in an iron lung for 32 years. The movie focuses on his terrified but determined decision, at age 38, to lose his virginity before he dies. (He passed in 1999.) As daunting as his struggle was, he was a man of renowned accomplishment: against all odds, he taught himself to write poems and books by typing one letter at a time with a device held between his teeth, and even graduated from college in his electric gurney, wearing a cap and gown. He was also a deeply devout Catholic, so when he takes the bold step of confiding in his priest his decision to explore his sexuality, Father Brendan (a droll William H. Macy), his friend and spiritual advisor, suggests hiring a sexual surrogate to help out. Instead of a prostitute or a dispassionate physical therapist, a miracle arrives in the intelligent, humane and generous mind and body of Cheryl Cohen Greene, a soccer mom psychologist with a house, husband, son and mortgage. Neither condemning nor condescending, she makes it her job to gingerly negotiate the dangerous detours between her client's distorted body and his sharp mind, guiding him through his erogenous zones while 58 pounds of air pressure bear down on him every five seconds to keep him breathing. Spirited and fueled by patience and warm compassion, it's an inspired journey that will leave you cheering.
As the woman who accepts her patient's challenge to reach sexual fulfillment, Helen Hunt bares it all, in more ways than one. More than mere carnal adventures, her six therapy "sessions" bring out hidden resources in both coach and pupil that surprise them both. Radiant, articulate and sensual, she is tremendous—but in the role of the afflicted man emotionally entering manhood, Mr. Hawkes is sensational. People are already making Oscar predictions about his deeply moving performance as O'Brien, for good reason. Heartfelt and gentle, he offers an award-worthy turn from start to finish while lying prostrate, unable to move. But better than that, he does it expressively, without a shred of self-pity, remorse or bitterness. The role is a far cry from the creepy, backwoods drug dealer he played in Winter's Bone, and he plays it magnificently. Both stars are directed by Mr. Lewin, who is himself disabled, with a no-nonsense lack of cynicism that is bracing. The full-frontal nudity while Cohen-Greene guides O'Brien through his fears and hangups has a frank and graphic candor that actually appears elegant. If you're going to be stark naked, you might as well show some style. Sex without the jokes, titillation, shame and lacy lingerie allows you to make an emotional connection. By the time her mandate is realized, the movie delivers tears and smiles in equal measure.
The Sessions is fascinating, informative, engaging and heartbreaking stuff. Its easygoing, matter-of-fact tone makes it subtle and rewarding, not weird. Roses all around to all and sundry for one of the year's most captivating films.
rreed@observer.com
THE SESSIONS
Running Time 95 minutes
Written and Directed by Ben Lewin
Starring John Hawkes, Helen Hunt and William H. Macy
4/4