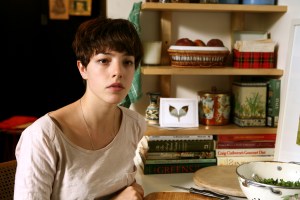 The last film by novice indie director Ry Russo-Young was an empty bottle called You Won't Miss Me, about an alienated 23-year-old misfit just released from a psychiatric hospital. Her new film, Nobody Walks, is an empty bottle about an alienated 23-year-old misfit from New York who is making a video about insects for her art thesis. She seems to have a thing for 23-year-old misfits. Too bad she can't find a way to make a movie about them that will keep anyone awake. Co-written by Lena Dunham, whose TV sitcom Girls is another guaranteed cure for insomnia, Nobody Walks is 82 minutes long—and I was snoozing 30 minutes in. This is not good for anyone anxious to build a reputation or entertain an audience. 
In this meandering take on the wasted lives of dull people on the fringe of the movie industry, set in the Los Angeles neighborhood of Silver Lake, a shrink named Julie (Rosemarie DeWitt) lives with her two children by a former marriage and her current husband Peter (John Krasinski, from the TV sitcom The Office), an audio editor who synchs sound effects to silent films. Peter's career must be a flop, because, for some reason that is never made clear, he takes on a boyish art student named Martine (Olivia Thirlby), agreeing to provide the soundtrack for her short experimental video, and in the bargain (to his wife's amazement) invites the cute East Coast visitor to be a houseguest. (She's the only person in Los Angeles who can't drive, which explains the title of the film.) Peter's assistant is a young hunk named David (Rhys Wakefield). Julie's daughter Kolt (India Ennenga) is in love with David, but he falls fast for Martine. So does Peter. While searching for the right noises ants make when they're moving bread crumbs and making love, Martine seduces Peter. Watching the bugs in Martine's film fornicate, Peter gets hot (duh!) and starts humping Martine on his editing board. Frustrated, Julie turns to one of her screwy patients (Justin Kirk) for sex. Sixteen-year-old Kolt starts experimenting too, with her Italian tutor and a doofus schoolmate. In no time, a gamine interloper throws a boring family out of whack, but there's no mourning their loss, because they're such one-dimensional cardboard clichés to start with, and their sell-by dates have already passed. By the time they throw Martine out and she heads back to Brooklyn, everyone is miserable. Their house, by the way, is terrific—a lot of glass looking down on the lights of L.A., which presents a Windex nightmare.
With her boyish Buster Brown haircut and eyes big and dark as black olives, Olivia Thirlby looks like a cross between Anne Hathaway and the young, wide-eyed and innocent Liza Minnelli when she was first starting out in The Sterile Cuckoo. But, although men find her irresistible, she's about as naive as a scorpion and sexy as a 10-year-old grocery bagger at Grand Union. The actors are all completely wasted in this dumb travesty of fumbling, unfocused, oversexed numbskulls who work in the movie business. Everyone connected with Nobody Walks should have done just that—early and quickly.
rreed@observer.com
NOBODY WALKS
Running Time 82 minutes
Written by Lena Dunham and Ry Russo-Young
Directed by Ry Russo-Young
Starring Olivia Thirlby, John Krasinski and Jane Levy
1/4