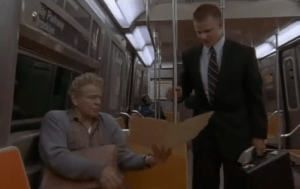 A last-minute phone call from a source revealed an exciting tidbit about the man behind the world's largest ferris wheel, Rich Marin. While Mr. Marin may have come to fame (or infamy) for blogging about movies as the Bear Stearns division he ran imploded, he is unapologetic about his love of cinema—so much so he even relaunched his movie blog last year. "I decided you can't pretend to be who you're not," he said.
But it turns out before he was blogging about movies, he was writing them. Here's what we wrote in today's cover story.
The blogging imbroglio was not the first time The Times has written about Mr. Marin's flare for film, either. Before there was blogging, there was screenwriting. In 1996, Mr. Marin submitted a script to an HBO competition called Subway Stories. It was a project produced by Rosie Perez. Out of the thousands of submissions, only 10 were selected for production, and Mr. Marin's was one of them. "It was the most highly reviewed by both The Times and the Daily News," he said. He did not mention which of the 10 shorts was his, but it is almost certainly 5:24, which is about a banker's reckoning with a wise old man as they ride the Lex downtown before dawn. The Timescalled it "the most successful example" of "eerie psychological confrontation" that suffuses many of the shorts, a "succinct study of the traps of financial ambition" starring Steve Zahn as the banker and Jerry Stiller as the wise guy.
Since all of the Subway Shorts have been posted to YouTube, we thought it best to share his contribution with you here. But they guy who posted them (without HBO knowing?) has turned off embedding, so if you want to see Mr. Marin's work, you will have to watch it over there.