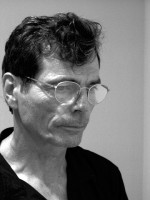 We direct your attention now to Barry Schwabsky's very thoughtful essay on the artist Richard Tuttle, which begins with the following sentences that are too good not to quote:
"If there comes a day when all art is digital, artworks will subsist in some ether whence they may be conjured to appear and vanish at our convenience. In this new era, I suppose, there will be only two art galleries, which will have swallowed up all the others. Chances are they'll have names like Pacebook and Googlegosian, and their offerings will be accessible anytime, anywhere."
Googlegosian! Sign us up! It gets better from there. Read it here.