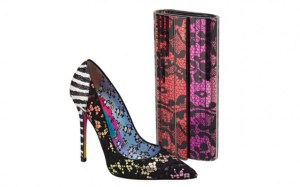 As you may already know, the artist Rob Pruitt–he of naked book-signing fame–has collaborated with Jimmy Choo on a new line of shoes, bags and accessories that reflect many of Mr. Pruitt's themes. The line includes glitter zebra sandals and glitter angel and devil pandas, which are pretty much exactly what they sound like. Here's Mr. Pruitt on the subject of pandas, quoted in a press release:
The panda is a recurring image seen throughout the body of my artwork. It's a symbol that reminds us both to tread lightly and to appreciate the adorable. They represent the harmony of yin and yang.
And here's a video of some pandas going down a slide:
[youtube=http://www.youtube.com/watch?v=sGF6bOi1NfA&w=420&h=315]
The collection launches this Thursday with a party at the Fletcher-Sinclair Mansion.