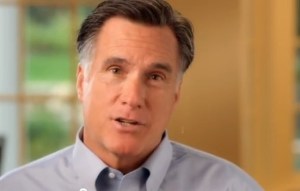 Republican Indiana Senate candidate Richard Mourdock sparked a firestorm after he discussed abortion in cases of rape in a debate last night and said, "I think even when life begins in that horrible situation of rape, that it is something that God intended to happen." Democrats quickly went on the attack against Mr. Mourdock, focusing on an ad Republican presidential candidate Mitt Romney recorded for him that was released online Sunday. Though aides for Mr. Romney issued statements expressing disagreement with Mr. Mourdock's position on rape and abortion, the campaign is not asking for the ad to be pulled.
A spokeswoman for the Romney campaign told Politicker this morning that the campaign still supports Mr. Mourdock though the governor "disagrees" with his view about exceptional cases when abortion should be legal.
"Gov. Romney disagrees with Richard Mourdock, and Mr. Mourdock's comments do not reflect Gov. Romney's views. We disagree on the policy regarding exceptions for rape and incest but still support him," the spokeswoman said.
Despite the Romney campaign's efforts to distance themselves from Mr. Mourdock's remarks, Democrats have pounced on the ad in an effort to tie Mr. Romney to the controversial candidate. In a gaggle with reporters on board Air Force One this morning, Obama campaign deputy press secretary Jen Psaki said it is "perplexing" Mr. Romney hasn't demanded the ad be taken down.
"The president felt those comments were outrageous and demeaning to women," Ms. Psaki said of Mr. Mourdock's statements. "This is a reminder that a Republican Congress working with a Republican President, Mitt Romney, would feel that women should not be able to make choices about their own health care. And this is an issue where Mitt Romney is starring in an ad for this senator.  And it is perplexing that he wouldn't demand to have that ad taken down."
This afternoon, the Democratic National Committee hosted a conference call featuring Congresswoman Debbie Wasserman Schultz, the DNC chair, who referenced the uproar over GOP Missouri Senate candidate Todd Akin's comments on rape to argue Mr. Mourdock's remarks are "just the latest examples of Republicans' extreme attacks on women's health."
"Mitt Romney has made one TV ad for a Senate candidate in the general election and that ad was for Richard Mourdock," Ms. Schultz said. "There's definitely a pattern here, this is not the type of leadership American women are looking for."
So far, the pressure from Democrats haven't persuaded Mr. Romney to ask for the ad's removal. The Romney campaign told Politicker this morning they have not asked Mr. Mourdock's campaign to pull the ad.
Watch the controversial campaign commercial below.
[youtube http://www.youtube.com/watch?v=PVXKYw_r5ZY]