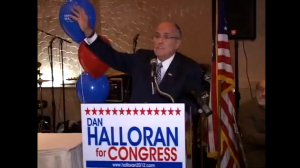 You can officially count former Mayor Rudy Giuliuani among President Barack Obama's critics over his controversial handling of last month's attack on the U.S. Consulate in Benghazi, Libya. At a fundraiser for GOP congressional hopeful Dan Halloran earlier this week, Mr. Giuliani simply unloaded on the Obama administration's "cover-up" of the incident's terrorist roots, which he described as a "bunch of lies" based on Mr. Obama's political calculations and "fantasy world" delusions.
"This was a 'terrorist attack,'" Mr. Giuliani said. "The president has hard time saying those words. He has a hard time saying those words because he lives in a fantasy world. The fantasy world he lives in is that Islamic extremist terrorism, even if it exists, shouldn't be acknowledged. We pretend they're not at war with us; we're certainly not at war with them."
The former mayor–whose 2008 presidential campaign was largely based on his national security expertise–argued Mr. Obama's "fantasy" mindset trickled down through the State Department leading them to deny requests for additional security at the Consulate in Libya.
"If the President of the United States keeps putting his head in the sand about this, then all the people who work for the President of the United States tend to put their head in the sand," he continued. "And that's why, I believe, all these requests for additional security were not granted. Because it would give the impression that maybe Libya was not this wonderful place that President Obama would like us to think it is….It defies his narrative."
Mr. Giuliani also credited the congressional Republican majority elected in 2010 with bringing the issues of security at the diplomatic post and potential terrorist ties to the incident to light. The House Oversight for Government Reform Committee, which is chaired by Republican California Congressman Darrell Issa, is currently conducting an investigation into the attack.
"If it wasn't for the victory we had two years ago, this entire situation in Libya, which the administration wants to cover-up, the requests for more security, the denial of more security, calling it a 'spontaneous incident' where almost from the first minute it was described as an Islamist, extremist, terrorist attack by an Al-Qaeda-affiliated group, that entire-cover up would be covered up," Mr. Giuliani said. "Because there'd be no Republican Congress to hold the hearings they're going to hold tomorrow to lay out this picture."
Democrats have blasted Mr. Issa's investigation of the Libya attack as "extremely partisan."
Despite the seriousness of the topic of hand, Mr. Giuliani also got in a couple quips and some jokes. For example, he declared, "This was for President Obama, I believe, a teaching moment. Because next year, I believe, he'll be teaching."
"They just succeeded in killing an ambassador in the first time since the Carter administration," he said at another point. "If I were President of the United States, and was compared to President Carter, I'd resign."
Watch Mr. Giuliani's remarks below:
[youtube http://www.youtube.com/watch?v=JitQGpejjb8]