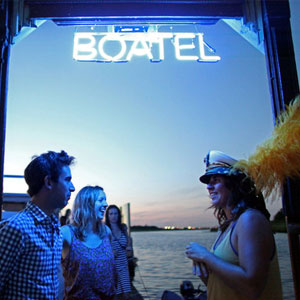 Art, love, happiness, the Boatel in Far Rockaway. The best things are fleeting, like life itself.
The beloved, decrepit Boatel, comprising 23 boats that artists outfitted two years ago, is going away. At least the current, dingy but atmospheric incarnation of the Boatel is going away, according to DNAinfo. After Halloween, the art installation/cheap lodging at Marina 59 will be dismantled and the boats stripped down to their basic frames.
The artists' commune on the water was the vision of Constance Hockaday, who got Marina 59 to allow the artists to transform a group of decaying boats in Jamaica Bay into installation spaces for urban adventure camping. The boats mimed, among other things, a Victorian-era naturalist's laboratory.
The boats rented for between $60 and $100 a night, a fee that was labeled a donation, as the boats may have been sea-worthy, but they lacked electricity, working bathrooms and other features that would have made them legally rentable short-term lodgings. As Marina 59 warns on its website: "The Boatel is not a real hotel by any stretch of the imagination. We encourage you to take advantage of what is here and make your own fun. We've tried to make it as safe as possible but please be aware of your surroundings at all times and be responsible for your own safety."
Which is, admittedly, kind of awesome in the era when the most important freedom often seems to be freedom from fear of litigation.
Alas, the owner of Marina 59 is planning to upgrade the boats, maybe with running water and toilets, and to charge enough to turn a profit (the previous fees basically covered maintenance and taxes).
At least the artists, while sad to leave their magical mermaid realm, seem to realize that it's time to sail on.
"We are used to art being ephemeral," one told DNAinfo.  "We will just have to float our dreams somewhere else."
kvelsey@observer.com