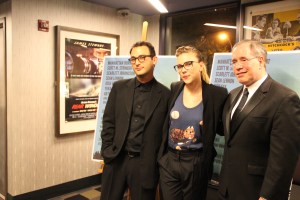 Outside of the IFC Center Thursday evening, three men in hazard suits were holding up signs and chanting things, seemingly picketing the crowd lined up to see Josh Fox's Academy Award-nominated film about fracking, Gasland.
"Wait, are these protesters?" Another reporter in our small group asked, peering out the window. "Are they against anti-fracking?"
"No, I think they are here to support anti-fracking," another replied. "But they've been protesting for so long that they've forgotten how to communicate normally."

Well put, and an apt analogy for the entire movement against hydraulic fracturing. Much like people who set out to expose Scientology and in the process become crazy-eyed zealots in their own right, the people who are against driving pipelines into shale and then pumping chemicals through the ground (and possibly the water supply) are obviously on the right track, but speak so intensely about the subject that it can be difficult to keep up with them.
For a good example, check out Mark Ruffalo–the celebrity face of the movement, and "the natural gas industry's worst nightmare," according to Rolling Stone–as he tries to explain the process of fracking to Stephen Colbert. Passionate to the point of incomprehension, Colbert had to gently break out of character to walk viewers through the issue while Ruffalo hyperventilated into a bag.]
It's a testament to how important this movement is, that even despite its relative complexity and fire-eyed zealots, more and more celebrities are turning up for anti-fracking events every day. Lady Gaga just threw her hat into the ring. Matt Damon is making a movie about it, Promised Land, in which he plays opposite John Krasinski, another clean water proponent. Robert Redford, Fred Armisen, Alec Baldwin, Ethan Hawke, Debra Winger, Paul McCartney, Joseph Gordon-Levitt and Carrie Fisher were among the 140 celebrity names who signed a petition begging Gov. Cuomo to ban the use of hydraulic fracturing earlier this summer. (With all the famous faces, the anti-fracking community might actually be confused for Scientologists if one isn't paying close attention.)
And then there's Scarlett Johansson, who appeared at the Gasland screening that evening with Manhattan Borough President Scott Stringer to answer questions with Mr. Fox. The actress, rocking an owl T-shirt, jeans, thick glasses and a ponytail, was surprisingly chill for a Clean Water advocate: no pulpit speeches, no talk of fire and brimstone and methane emissions from shale gas.
"Should we call you Scarlett or Ms. Johansson?" one reporter asked timidly.
"You can call me anything you like, just call me," she said, laughing with that deep Katharine Hepburn rasp.
She deferred most questions about Gov. Cuomo's involvement with fracking. (Basically, he was all set to approve fracking for several New York counties, but lately he's been delaying his decision, citing a need to gather more evidence about the environmental effects from horizontal drilling.) That left the questions to Mr. Fox or the borough president, whose "Go Green" initiative early on included calling for a statewide moratorium on hydraulic fracturing.
"I think the governor is going to be very smart and wise," Stringer said. "One of the great things about him is that he seems to get Albany right, and he seems to understand balance. I'm very hopeful. I think with the celebrity support like Yoko Ono, Sean Lennon and Scarlett Johansson … more people will know about the dangers of fracking after tonight." Not to mention that the benefits from the screening were going to the Water Defense and WOW International Company, two major anti-fracking groups.
"And don't forget about Gasland II," Ms. Johansson murmured, before claiming that she was actually playing the borough president in the film. (She didn't, though that would have been great.)
"I'm not sure if we want to get into the radon issue right now …" Mr. Fox said, before getting shut down over a time issue. Luckily, he was able to spend most of his pre- and  post-movie time holding court over just such things. ("I couldn't stand the debates," he told The Observer earlier in the evening. "Mitt Romney would say 'Pick me, I'm going to drill more!' And then Obama would counter with, 'No, I'M going to drill more!'")
After the film, Mr. Fox was joined onstage by Sean Lennon and Cibo Matto's Yuka Honda. "We're at a turning point in history," said Mr. Lennon. "It's not just about fracking, it's about changing the direction of society so that we don't fall off a cliff of nonsustainable living."
Though passionate, we couldn't help thinking that the celebactivist was preaching not just to the choir but to the entire Roman Curia. Everyone who had come to the sold-out Gasland viewing that evening was a fervid anti-fracker. One had even brought a jug of vicious brown water that Mr. Lennon claimed could soon be coming out of our bathtubs.
"Like that stuff in Ghostbusters II?" we thought, suddenly scared that Harold Ramis had accidentally predicted the future with that pink slime lying in New York City's sewers.
If we left the theater less corybantic than the rest of the audience, it was only because Gasland's powerful message had been somewhat undermined by the 'Town Hall on PCP' frenetic question and answer portion of the evening. In fact, during the meet-and-greet upstairs, we had asked if it was possible to explain the problems of fracking in layman's terms. "Could you talk about it like you were teaching a class of third-grade children?" We asked, hoping that someone would be able to un-Ruffalo the situation for us.
"I'm not sure children should be taught fracking in our schools," the borough president replied. "That's something we should really be letting the parents tell their kids about."