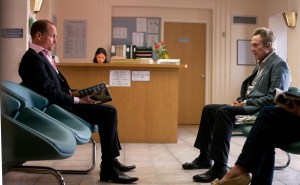 Garbage comes in all sizes, and every one of them seems to fit into a load of violent, hateful and incomprehensible trash called Seven Psychopaths. Written by talented Irish playwright Martin McDonagh, who shocked Broadway audiences with dark, funny, gothic creepshows like The Beauty Queen of Leenane, The Cripple of Inishmaan and A Behanding in Spokane,this movie is proof that moving to Hollywood is poisonous Kool-Aid to the creative process. Kneeling at the trough of Hollywood pop psychobabble that has come to symbolize the New Cinema, Mr. McDonagh seems to have taken leave (temporarily, I hope) of his senses. He proved in 2008, with a brooding job called In Bruges, about hit men on holiday in Belgium, that he cannot stretch his bristling ideas into one full-length feature. Unfortunately, he also thinks he's a director—a job for which he shows no patience, aptitude or proficiency. The result is a twitching convulsion of vicious drivel passing itself off as a movie, which can be best appreciated by the kind of people who dig Showgirls, the Saw franchise and Spike Jonze-Charlie Kaufman flicks.
For starters, the title means nothing. Don't even try to count the number of psychopaths who bang around from scene to scene without reason or rhyme. Colin Farrell, a fellow Irishman who bonded with Mr. McDonagh on the In Bruges shoot, plays Marty, a drunken Hollywood screenwriter who has lost his inspiration in the middle of a numbskull morality tale (called Seven Psychopaths, natch) about a serial killer who longs for love, murder and world peace. His best friend Billy (Sam Rockwell), an actor who can't get a job in the movies because he keeps punching out the directors, is determined to help Marty finish his script at all costs, including a few massacres of his own. The first thing he does is introduce his hapless pal to his partner in crime, an aging Polish loser (Christopher Walken, looking like 10 miles of broken asphalt painted green) with a dying wife, who cooks up a scheme to steal dogs then return them to their desperate owners to collect the rewards. The blocked writer finally gets a glimmer of the Real McCoy when the dognapper makes the mistake of stealing a fluffy, yappy, sissy Shih Tzu named Bonny (played by a real Shih Tzu named Bonny) that belongs to a macho gangster (Woody Harrelson). The effeminate but brutal thug goes viral and tracks down the Polish thief and everyone he knows, beginning with his terminally ill wife, whom he exterminates in the cancer ward. Thanks to a plot that backfires and a newspaper ad that Billy places inviting closeted psychopaths to come forward and be interviewed, Marty the ill-fated scribe is suddenly up to his inkjet printer cartridges in real serial killers, including Tom Waits, who is not much better as an actor than he is as a tone-deaf musician (except he mercifully does not sing out of tune this time), as a maniac who ties his victims to a table and chops them up with a meat cleaver while a white rabbit licks up the blood, then pours gasoline on the corpses and sets them on fire. You sit there trying to figure out what's going on, before you finally realize they're making it up as they go along. As they act out their different versions of events in the unfinished screenplay, the movie is making it up, too.
Suddenly the entire cast is busy slaughtering each other as the screen is crowded to capacity with psycho killers and more psycho-killing psycho killers, including a pair of homicidal maniac lovebirds, a razor-slashing Quaker and a Viet Cong killer disguised as a priest seeking revenge against America. They all end up in Joshua Tree National Park in a blazing shootout that leaves almost everyone dead except the delusional writer, whose finished screenplay might be on its way to an Oscar. I've never seen such a colossal waste of talent. The acting is so bad in this picture that even the quirky, inventive Sam Rockwell can't save it. The pulpy Quentin Tarantino-style dialogue mixes Little Caesar with Grand Guignol to no effect, the camerawork is garish, the pacing ludicrously twisted, the bloodshed gratuitous. The women in the film (Abbie Cornish, Olga Kurylenko and Gabourey Sidibe from Precious) are underdeveloped to the status of walk-ons. The direction has a scattered buckshot effect, which may be trendy but is not meant as a recommendation. At the recent Toronto International Film Festival, where it premiered in a sidebar event called Midnight Madness, one wag informed me that Seven Psychopaths is actually a comedy with a potential cult following and that I just don't get it. Whatever. This time ignorance is bliss, but to me, the movie is genuinely humor-resistant. Any cult it develops will be chewing gum and wearing Halloween costumes.
rreed@observer.com
 SEVEN PSYCHOPATHS
Running Time 109 minutes
Written and Directed by  Martin McDonagh
Starring Colin Farrell, Woody Harrelson and Sam Rockwell
0/4