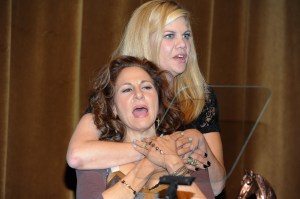 Charity events are usually tame affairs, but last Tuesday, a night spent with NY CLASS's supporters saw guests dancing on the tables, celebrities promising private flashing sessions and surely one of the finer "Don't you know who I am?" moments in recent Manhattan's party scene memory. A smattering of famous faces turned out to fight the use of carriage horses in New York, which remains one of the few cosmopolitan cities worldwide yet to have outlawed this cruel and, quite frankly, antiquated trade.
Honorees Kathy Najimy and Kristen Johnston were in fine form, scribbling speeches on the backs of napkins and offering to do just about anything for the sake of the charity. Who says all Hollywood actresses are self-centered? "My career's on the wane, so I have to revive it by joining a charity. That's the first thing you think of—my career's dying: I've got to call PETA!" Ms. Johnston joked on stage, later reassuring The Observer that she did, in fact, have several upcoming projects, including an Off Broadway play due to debut in early 2013.
But not everyone in attendance was aware of Ms. Johnston and her very-much-alive career: the auctioneer repeatedly mispronounced Ms. Johnston's name, causing quite the stir. "CHRISTIAN, WHERE'S CHRISTIAN? COME UP HERE, CHRISTIAN!" she blasted into the microphone, inducing countless eye-rolls from the unimpressed guests. Given that the honoree had just made a speech, and had been mentioned repeatedly in everyone else's, it was a faux pas of epic proportion. After the auction ended, the woman sidled up to Ms. Johnston's table and attempted an overly effusive apology, which did little to rectify the situation.
"I'm not even going to talk about what just happened," Ms. Johnson said. "You know what I think about it—she's the kind of girl that only talks to guys. I mean, who the hell is Christian?" The actress's recent memoir, Guts, is a tale of drug-induced organ-bursting in London. Perhaps not one for mom's Christmas stocking, it recounts how Ms. Johnston almost lost her life mid-pee—which could have really elevated her to Elvis levels of fame. "I was a drug addict, and when I was in London, my stomach burst open. I, like, DIED. It was awful," she divulged, flicking a blond mane glossy enough to rival the evening's equine beneficiaries.
After promising earlier to show her "lady parts" to auction winners, who barely coughed up pennies for the, er, goods on offer, Ms. Johnston told The Observer, "My attitude is, screw it—I say whatever I want! 'No comment' doesn't work for me, and I have Twitter now, and comment back when people leave rude messages about me online. I know how to defend myself."
Ms. Johnston's proclamations made the event's emcee Pamela Anderson seem, dare we say it, rather demure. The former Baywatch babe, all bouffant and boobs in a tight-fitting dress, talked about her pride in spreading awareness of the cause. She also revealed that she will be heading across the pond for the festive season to partake in (yet another) British reality show, Dancing on Ice, and has already begun rehearsals, despite the fact it doesn't start for three months. "I'm nuts, I just want to learn everything," she spilled, "and I'm not allowed to talk about this, but whatever. Modern television is just so crazy, and I'm so blessed that I get these opportunities."
The night ended on a high point, with Joan Jett and the Blackhearts providing some much-needed angsty release for the pent-up guests, and Pammy rocked out with the best of them in an evening as dramatic and ridiculous as a Baywatch storyline.
Well, almost.
clytton@observer.com
Correction: As originally written, this story incorrectly suggested that Kristen Johntson was intoxicated at the party. Ms. Johnston has been sober for 6 years, as she related in her well-regarded memoir, Guts: The Endless Follies and Tiny Triumphs of a Giant Disaster. The Observer regrets the error.