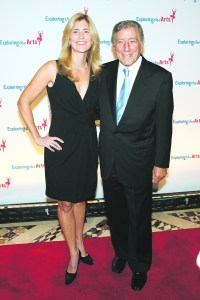 Tony Bennett's wasn't the only gala dinner in Manhattan last Thursday, but that's where Shindigger was, arriving at Cipriani 42nd Street for cocktail hour, just in time to catch a glimpse of Alec Baldwin. "Oh my God, he's lost so much weight—I didn't even recognize him!" we heard one guest whisper to another, eyeing the star who would kick off 30 Rock's final season later that night. Mr. Baldwin's wife, Hilaria Thomas, flaunted her Hebrew for the night's honoree, entertainment lawyer Allen Grubman, before the couple headed off to the Norman Mailer Center benefit at the Mandarin Oriental Hotel.
Mr. Bennett, whose nonprofit Exploring the Arts operates in New York public schools, apparently lacked Ms. Thomas's linguistic talent. Or so we learned when we asked the 86-year-old crooner, whose third Duets album pairs him with the likes of Marc Anthony and Gloria Estefan, about his Spanish. "No habla Español," answered his 46-year-old wife, co-host and translator, Susan Benedetto. We changed the subject to Mr. Bennett's next album, a recently announced full-length collaboration with Lady Gaga. "I know that she's one of the great singers of all time, but people don't know that," Mr. Bennett explained. "They just see another, you know, big new star coming up, but she is one hell of a singer. She can improvise as great as Ella Fitzgerald."
We stopped at the bar to take in the student artwork, alongside photographs of Mr. Bennett (himself a talented painter) with young dancers and musicians. A disembodied voice urged us to our table, where pink paintbrushes matched the flower arrangement. 
We watched Sting, unannounced, dedicate "Fields of Gold" to Mr. Grubman and his wife, Corcoran broker Deborah. "Allen Grubman and I have had a long relationship, over three decades," the man born Gordon Sumner recalled. "A very mutually fruitful relationship. I once had a meeting with him, though, and I said, 'Allen, explain this to me. You seem to be taking 20 percent of my money.' He said, 'Sting, let me sit you down. Look at it this way.' I said, 'How?' He said, 'You're taking 80 percent of my money.'"
Sting continued with "Every Breath You Take," drawing out a last "I'll be waaaaatching you" to cheers and a standing ovation from table 27, before the Police bassist—who recorded the "The Boulevard of Broken Dreams" for Mr. Bennett's first Duets album—split to the Children's Health Fund benefit at Radio City.
With all these duets, we wondered why Mr. Bennett had left out the vocalist behind 1968's It's Time for Regis! We posed the question to Regis Philbin.
"'Cause I'm not that good, believe me!" replied the former talk show host.
We objected.
"Have you heard me sing? When did I sing? Come on, let's hear it!"
Only a year ago, we reminded him, he and Mr. Bennett performed "The Best Is Yet to Come" on Live! With Regis and Kelly.
"You're right. And that came out okay!
"I love you," he announced, giving our right hand a squeeze.
Mistress of ceremonies Katie Couric had similar ideas. "Regis, I'm very sorry, Regis, but you didn't make the cut. Has Tony talked to you about that?" Hey, that was our joke!
After the dessert plates were cleared, Barbara Walters introduced the Grubmans.
"I represent some of the greatest rock stars in the world," said Mr. Grubman. "I've had two idols my entire life—singers: Tony, and of course Frank Sinatra," who gave his name to the high school Mr. Bennett founded in his hometown of Astoria.
The evening's host took the stage with his four-piece band. "Because of You" led into a triumphant "Maybe This Time" that brought the whole crowd to its feet. Earlier, we had asked Nancy Pelosi, who had flown overnight from Denver's debate to a fund-raising lunch on the Upper East Side, what she wanted to hear Mr. Bennett sing. "Oh my gosh, I don't know!" the House minority leader had answered. "San Francisco, inching toward the World Series, everyone wants him to sing 'I Left My Heart in San Francisco,' but he's not gonna sing that." We hoped she was listening as Mr. Bennett launched into that tune—although we pity her beloved Giants, down two games to the Cincinatti Reds at press time.
Mr. Bennett introduced his next song: "George and Ira Gershwin wrote a song in 1934 that I consider the most contemporary song you could sing today." His meaning became clear a few bars into "Who Cares," as he dramatically covered his eyes when he got to the line "Let a million firms go under." "There's nothing like this right here," the singer announced, and, hearing his unamplified voice fill the former Bowery Savings Bank with "Fly Me to the Moon," we were inclined to agree.
jwolf@observer.com