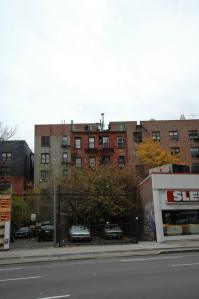 It is a story that has been writ repeatedly on the landscape of New York: neighborhood transforms from working class haven to bohemian haunt to the place where every developer in the city wants to build a luxury condo with a bank of boutiques on the bottom floor.
And yet, there are few places that have been assaulted as mercilessly as Greenwich Village, Soho and the enclave nestled between their two historic districts—and thus highly attractive to developers— known as South Village. It is an area flush with building permits, preservation battles—activists have spent the last few months fighting to stop the historic townhouse at 186 Spring Street from being torn down to make way for a condo project—and a languishing landmarks proposal.
Now, with a plan for a 14-story mixed use development at 180 Sixth Avenue moving forward, the Greenwich Village Society for Historic Preservation is pleading, once again, for contextual rezoning and the creation of a South Village Historic District.
The 180 Sixth Avenue development, located between Vandam and Spring Streets, filed an application with the DOB yesterday indicating that the building would have 61,471 square feet of residential space and 8,075 square feet of commercial space. While it will be built on an empty lot next to a strip of one-story retail stores (not exactly a pristine spot), preservationists argue that the tall building, to be designed by BKSK Architects, will be out of context with the surrounding neighborhood.
"The latest planned 14-story building at 180 Sixth Avenue is particularly concerning for a variety of reasons," wrote GVSHP executive director Andrew Berman in a letter to Landmarks Chair Robert Tierney and Planning Commissioner Amanda Burden. "It would replace several one to four story buildings, some of which (already demolished) were nearly 200 years old. It is surrounded largely by three to six story buildings, which it would tower over precipitously."
The GVSHP is also questioning the use of development rights for the site, some of which were purchased from a local charity that was given a formerly city-owned building with the stipulation that it be used as a facility serving the community.
The empty lot changed hands last year for $17 million, passing from Extell to the Texas-based Tavros Capital Partners. And while we do not know the developer's specific plans (BKSK said that it was not authorized to comment on the project), it seems safe to say that the residential units will be almost certainly be either luxury rentals or luxury condos.
The Preservation Society also points to a number of other out-of-context developments rising nearby: 178 Bleecker Street, 209-229 Sullivan Street (Children's Aid Society), 140 Sixth Avenue/78 Sullivan Street, 73-75 Sullivan Street, and 182 Spring Street.
The Preservation Society submitted a formal request for landmarking of the South Village district in 2006; in 2010, the Commission landmarked a small area as an extension of the Greenwich Village Historic District.
"The City promised to consider this entire area for landmark designation years ago, but is yet to fulfill its promise," Mr. Berman wrote The Observer in an email. "In the meantime everyone from NYU to Rudin Management and now to Trinity Realty are getting upzonings from the City, increasing development pressure in the area, but these community-requested neighborhood preservation measures can't even get their day in court with a public hearing."
kvelsey@observer.com