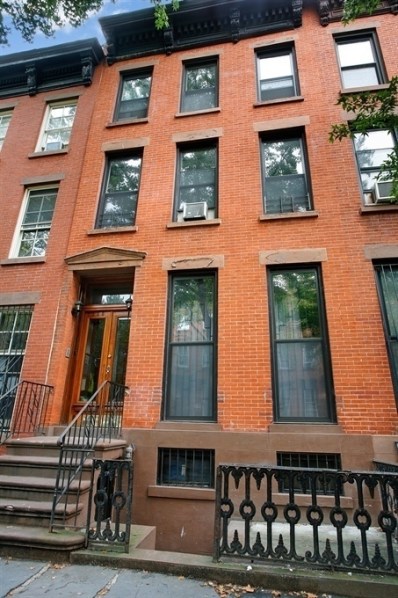 The recent rage for converting multi-family brownstones back to their long lost single-family glory may make architectural historians as pleased as punch, but it also means that such working stiffs are—independent of a trust fund—far less likely to live in one.
Indeed, the prospect of having an entire townhouse to oneself has excited many a wealthy apartment dweller, and such a transformation could even be deemed drool-worthy enough to land a featured slideshow in The Wall Street Journal. But a less than laudatory side effect of each awe-worthy conversion is an immediate loss of housing units: a building that once housed a handful of families now houses only one. Inevitable?  Perhaps, but it seems worth at least occasional discussion, or at least mention, in a city where vacancy rates are at all-time lows and apartment prices are at all-time highs.
It's unfortunate that the restoration of many a historic townhouse and the beautification of many a rundown neighborhood has also meant a precipitous drop in the housing stock available to the middle and lower classes. And while brownstone renovations and the changes wrought by their upscale inhabitants may well have helped to draw housing developments to the borough, they are, by and large, luxury developments. Brooklyn is now the second most expensive place to live in the country, and like Manhattan, it is a place of growing income inequality, a place where the lower and middle classes find it increasingly difficult to live.
While the percentage New Yorkers paying unaffordable rents has increased, with more than 30 percent of New Yorkers paying more than half their income to rent ever-smaller apartments and Mayor Bloomberg is pushing micro-apartments, luxury residences continue to grow.
Moreover, in the case of brownstones, while rent regulation laws generally protect rent controlled tenants from eviction, making flipping a less desirable option for developers (although certainly not unheard of) such protections do not extend to the tenants of owner-occupied buildings.
It's not that such beautification doesn't move us: who doesn't like to hear about parquet lovingly refinished or read about a couple like Julie and John Mack, featured in a recent New York Times article about Cobble Hill, a neighborhood that The Times tells us has morphed from a place of mere historic charms to a truly pristine restorations (stoops are being rebuilt, pink spa tubs carted away).
Of course, it's wonderful to hear about people who are invested in, and proud of, their homes and their neighborhoods. But when reading about the extensive renovations that the Mack family undertook to open up and "breathe fresh air into" a house that is "only a touch over 17 feet wide," it's hard not to think of the four families who were living in that house before.
kvelsey@observer.com