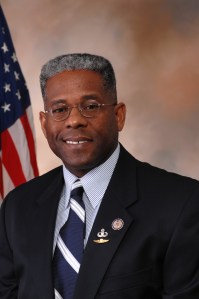 On Thursday, Miami Herald columnist Jose Lambiet published a story on his blog, "Gossip Extra," claiming he obtained a handwritten letter Florida Congressman Allen West sent to his wife, Angela, while he was serving in Iraq as an army lieutenant colonel in 2003. According to Mr. Lambiet, in the missive, the tea party favorite asked his wife whether she was "committed to being my porn star." Politicker spoke today to Michele Hickford, a spokeswoman for Mr. West's campaign, and she angrily declined to discuss the letter.
"We're not going to comment on this crap; it's just a garbage story," Ms. Hickford said. 
We asked whether she debated the veracity of the letter, and though she didn't directly deny its existence, she pointed to the fact Mr. Lambiet has not published a copy of the document.
"He hasn't produced a letter, so as of now, there's no letter," she said.
Update (10/3/12 1:30 p.m.): Mr. Lambiet claims he sent the West campaign a copy of the letter and received no response. He provided us with a screenshot of the email. 
In his blog post about the alleged letter, Mr. Lambiet said he chose "to withhold publication of the letter because of its nature." However, that didn't stop Mr. Lambiet from printing several excerpts, including a vow from Mr. West to try to be "a clean-cut, healthy and affectionate man," a claim the congressman detailed several "intimate acts" he expected to engage in with his wife upon his return from the war that would be "the standard and it is nonnegotiable" and a demand his wife commit to wearing "two-piece swim suits when on vacations."
The "porn star" quote came in the alleged letter's sign-off, which said:
"Angela, I need to know, are you committed to being my porn star? … I do not want to hear 'no' or 'we'll see about that.' I want my fantasies to be with you. God has authorized you and you only as my partner for intimacy, and that is what I want. … Get ready!"
We reached out to Mr. Lambiet to see if he wanted to respond to Mr. West's campaign. As of this writing, we have not heard back from him.