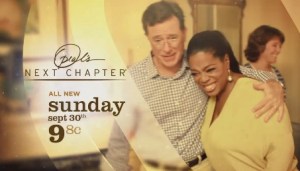 Last night Stephen Colbert and his wife Evelyn "Evie" McGee-Colbert had Oprah over at Evie's parents' 150-year-old home in Charleston for the latest installment of Oprah's Next Chapter. (Which is really good! Have you guys watched the Rihanna one yet? Get on that!)
We learned so much about Mr. Colbert, who lately seems to be distancing himself from his Stephen Colbert "character" more and more (in case people were still confused); first by speaking at Fordham with Cardinal Dolan, and then going on the mother of all talk shows to discuss everything from his family's death in a terrible plane crash to his influence on the presidential elections.

Stephen on playing Colbert:

Mr. Colbert on the White House Correspondents' Dinner ("He didn't cross the line!")

See, this is all Jon Stewart's fault.
The real influence of a fictional character:

Stephen Colbert has a wife … sorry, world:

And on a serious note, how the death of his father and two brothers when he was 10 affected his outlook on life:

Did anyone else start tearing up when Stephen Colbert started talking about his "secret name"? Yeah, us either. We just have terrible allergies.