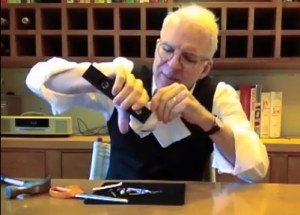 Bob Kerrey's chances of retaking his old Nebraska Senate seat may be "bleak," but perhaps he can cheer himself with this hilarious endorsement video his friend, comedian Steve Martin, made for his campaign. Mr. Martin's clip is a spoof instructional video entitled "Steve Martin Masters Home Crafts, Endorses Bob Kerrey" in which he gives viewers directions for "how to make a wad of paper."
"You may know me as the actor and comedian, but did you know I'm also a home crafts expert?" Mr. Martin asks as the video begins. "Today, I'm going to show you how to make a wad of paper. A wad of paper can be a lot of fun just to play with around the house or maybe toss expertly into a trash can but who wants to go down to a fancy office building and root around in their dumpster tO find a really good one?"
In the video, Mr. Martin focuses on his paper wadding instructions rather than directly discussing Mr. Kerrey, who has previously served as both governor and senator of Nebraska, but he has an unseen person display pieces of paper with messages outlining his endorsement of the Democrat.
"My friend, Bob Kerrey, is running for the U.S. Senate in Nebraska. He is a principled man whom I have known and respected for many years," the text in the ad reads. "Whether you are a Democrat or a Republican, he deserves your vote because … he cares about the people of Nebraska … he considers both sides of every issue to determine what is best … and he has already served Nebraska successfully as your governor and senator for 16 years. But most of all … He is sane. And his ideas are workable."
Mr. Martin isn't from Nebraska, but he has known Mr. Kerrey for over a decade. The politician presided over Mr. Martin's 2007 wedding ceremony to writer Anne Stringfield. Mr. Kerrey is currently trailing incumbent Senator Deb Fisher in the polls by a wide sixteen point margin.
Watch Mr. Martin's endorsement video below.
[youtube http://www.youtube.com/watch?v=p34r8gsQjJs]