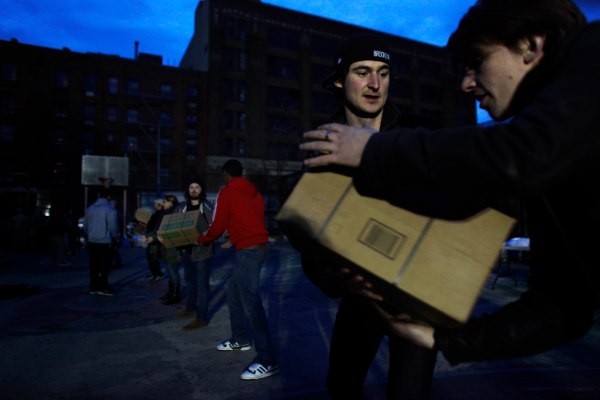 Looking for opportunities to help in the aftermath of Hurricane Sandy? Many organizations are looking for volunteers.
We'll keep this list updated as we learn of additional opportunities.
New York Cares offers options for those who have attended New York Cares orientation in the past and for those who have not had the orientation but still want to help.
New York City Public Advocate Bill de Blasio has a Hurricane Sandy NYC Volunteer sign-up sheet here. After you complete the form, the City's Public Advocate Office will make contact by phone.
The Greater New York Region Red Cross has a comprehensive page up about helping after Sandy. It lists requirements for volunteering at a Red Cross shelter. They include being over 16 and availability to work 12-hour shifts from Wednesday, October 31 to Friday, November 2. Red Cross volunteers must also be able to lift at least 50 pounds, and be prepared to work at shelter locations outside of New York City and willing to stay for up to 72 hours.
New York City Councilman Brad Lander addresses the need for volunteers on his home page, linking to the city's service site for anyone who wants to volunteer in the future and also listing needs for the John Jay High School shelter in his district, located at 237 Seventh Avenue, between Fourth and Fifth Streets. Items needed there include clothing for men, women and children, towels and shoes.
Google's Crisis Map lists shelters as well. Many of those facilities may need volunteers.
Volunteers can contact City Hall directly by emailing nycservice@cityhall.nyc.gov. Include a good contact email address, name and borough.
The Lower East Side Recovers is a site intended to help organize recovery efforts on–obviously–the Lower East Side: "The site allows people to offer/request assistance, and is coordinated by the folks at Occupy NYC and community organizations on the ground." The site suggests using #SandyVolunteer on Twitter to connect with others who want to help.
Mayor Bloomberg has recommended residents visit Disasterassistance.gov for recovery assistance.
Hurricane Sandy canceled blood drives, so blood banks may be running low. Find places to donate blood here.
The UJA Federation of New York has put together a comprehensive web page detailing volunteer opportunities. They include a chance to "donate and distribute basic items to elderly residents at the agency's Harry and Jeanette Weinberg Apartments who are without power and water" as well as information on delivering Hurricane Sandy relief packages.
For anyone who was set to run the now controversial New York Marathon, a rogue group of runners have set up a Facebook page for volunteers to participate in the NYC Marathon of Relief Efforts. Here's how this novel effort is supposed to work, according to the page author: "Runners will show up at the starting line, but will break off en masse at different points of the city to deliver supplies to places hardest hit and without power. This will mean departing from the race, to head to various buildings, running up and down stairs delivering water and canned goods, etc." They ask non-runners who were planning to watch the race on Sunday to "bring water, cash, canned goods, blankets and/or be ready to donate blood."
Hard-hit Staten Island has a dedicated page for volunteers at recovers.org. The most recent post on the page asks for "a large, empty space to stage out of in NYC." The need for a space will be ongoing.
New York City's Food Bank needs more than 100 volunteers each day at its central location. The Food Bank is placing volunteers in other areas where they are needed. They are gathering food donations–items needed include water, cereal, canned fruits and vegetables, and peanut butter. Volunteers can register online here.
Brooklyn's Neighbors Allied For Good Growth is gathering non-perishable food, AA batteries, flashlights and generators for elderly and disabled residents without power in housing developments located in Chinatown and on the Lower East Side. Locations where donations can be made include 46 Hester Street between 10 a.m. and 5 p.m., Two Bridges Neighborhood Council at 80 and 82 Rutgers Slip. Arrangements to pick up or drop off donations can be made by emailing hesterstreetrecovery@gmail.com.