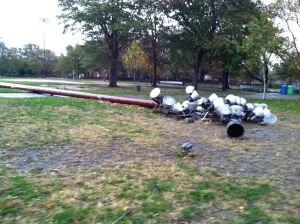 We woke up this morning with no internet and no TV, so we went out for a predawn drive to gauge the state of Brooklyn. The rain was intermittent, and the streets were mostly empty, the odd patrol car creeping down Bedford Avenue in Bed-Stuy, flashing lights but no sirens. Not much was open except for gas stations. Once we made it to the water, the effects of the storm were less severe than we expected. A streetlight down on Bedford Avenue between Third and Fourth streets, some construction debris on Wythe Avenue.
There were a dozen or so livery cars parked outside the Northside Car Service, so we stopped to ask a driver if the bridges were open. Yes, but you have to go around to McGuinness Boulevard and enter from the BQE. We wound our way through Greenpoint, noting that the Bank of America ATM on Manhattan Avenue was working. But when we reached the ramp for the Williamsburg Bridge, a squad car blocked the way.
So we exited the expressway and pulled up alongside McCarren Park, where dog walkers and the odd jogger were out surveying the damage. A light tower had come crashing down during the storm, and was now the center of attention. One Williamsburg resident, Sandhi Ferreira, snapped an iPhone photo and headed to the East River to watch the water. Tome Tanasovski, another neighbor, had seen news of the downed tower on Twitter and was out to check it out first-hand. He'd stayed up until 2 a.m. the night before, listening to the winds crash against his windows, but his power was on and his internet was up, and he planned to spend the day at home working.
"It's impressive," Maurice Fisher told us of the wrecked tower, though he could have been speaking broadly about the power of the storm. He'd come out to give some air to his Bernese mountain dog, Maggie, who'd been cooped up throughout the storm.
"It's like a vacuous pressure has been lifted," he told us. "The atmosphere is different this morning, that's just a fact."