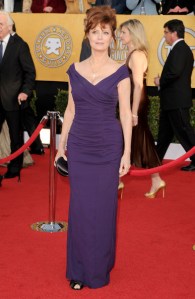 Fran Liebowitz, Sarah Jessica Parker and Matthew Broderick, Thurston Moore and John Zorn—many are the successful artists and intellectuals who have spoken up (unsuccessfully so far, it must be said) against NYU's Greenwich Village expansion plans. Now, Susan Sarandon has chimed in, or rather tweeted in, her support, specifically for the show Messrs. Moore and Zorn are hosting tonight at Le Poisson Rouge.
[tweet https://twitter.com/SusanSarandon/status/256104866009722880]
If only the NYU faculty could get Derek Jeter or Robert DeNiro on their side, they might have a serious chance of winning this one.
It should be noted many of the stars speaking out against the project are themselves residents of the Village and thus acutely concerned about the university's expansion and their quality of life—and property values. In that case, Alec Baldwin might be the next logical get. If he runs for mayor, maybe he can even reverse the plan