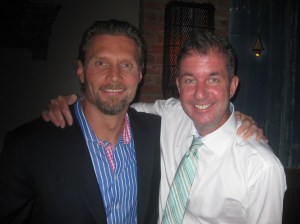 The Observer sipped its gin and tonic, watching as groups of middle aged men in tie-less suits mulled over the future of the internet—and their pocketbooks. The event was organized by Alphabird, a San Francisco-based company who is in New York in an effort to reach a mezzanine level of fundraising, and brought in a mish-mash of tech types, investors and start-up hopefuls to the dimly lit back section of The Tippler, a Meatpacking District cocktail bar. And, as expected from a gathering of people intent on profiting from the next viral video explosion, everyone had a lot to say—mainly about themselves. 
The Alphabird team—which has recently gone global by purchasing an Australian company, billing itself as an "audience company"—believes the next big thing is online video advertising.
Joe Abrams, an advisor to Alphabird and the co-founder of Intermix (the company behind MySpace), believes that the two and a half year old Alphabird is getting big at exactly the right time, as he expects advertising dollars to start pouring into websites that can get specified information about their viewers. "It took 20 or 30 years for advertising to say TV is a medium, and you know what? I want to reach a new demographic on TV," he said, adding that for the Internet, "it's a much more compressed cycle."
Chase Norlin received his Wikipedia page for starting the first YouTube, ShareYourWorld.com, in 1996 when Internet connections chugged along steam engines. He cofounded Alphabird and thinks that the advent of broadband will bring video to the forefront of the web. Mr. Norlin sees his company, which recently has upped its employee count to 88, as "a poor man's Google," because of its broad-based approach that includes social, content, publishing, tools and mobile sectors.
And this youthful perspective was the toast of the room yesterday evening. The youngest person in the room, seventeen-year-old and Blair Academy boarding school senior Jeremy Conway, continuously attracted the attention of groups of men. Mr. Conway was accompanied by a personal Virgil who also happens to be his mother's investment banker, Ed Taylor. Mr. Taylor, who handled almost all of Mr. Conway and his business partner/schoolmate Liam Cohen's questions, explained the project as a collecting place for independent films and webisodes that would launch within 90 days. Mr. Conway said he had received the idea when he was on a date with the "woman of [his] dreams" whose movie had lost funding. Despite the received inspiration we sensed the date was unsuccessful.
The gathering of technology and testosterone did attract some female attention though. As The Observer was leaving, we overheard a trio of made-up twenty-something women saying, "What? Alphabet?" "No, Alphabird," and "Huh?" before being told what the company was and changing the subject of conversation to "I'm not single. You're definitely single. You should go over there. Go!"
cbrennan@observer.com