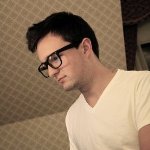 In case you spent the summer wondering what a "generational tale" that's part Bright Lights, Big City, part The Sun Also Rises and part This Side of Paradise might look like, well, wonder no more. Or at least: wonder less.
The book proposal that landed Dartmouth alum and self-styled hazing culture whistleblower Andrew Lohse a contract with St. Martin's Press found its way on the Internet last week, unveiling the young author's attempts to conjure the muses McInerney, Hemingway and Fitzgerald.
Mr. Lohse, you'll recall, enjoyed 15 minutes of fame in April, when he was the subject of a 9,000-word Rolling Stone feature documenting his rise and fall in Dartmouth's Greek life, including his arrest for cocaine possession, his attempts to call attention to hazing culture, and his work on a memoir.
In July, Mr. Lohse sold that book—to be titled Party at the End of the World—and last week, a site called Goldman Snacks (a "secret society" dedicated to defending "The Truth" about Dartmouth fraternity life) published Mr. Lohse's 69-page book proposal (h/t Business Insider). 
Here's a taste of the prose:
On our way back to campus we didn't have to wear the blindfolds. As the car pulled out of the woods, off the dirt roads, through Norwich, across the bridge to Dartmouth-I looked out the window, almost forlorn, like a child drunk with exhaustion on a long family vacation. I wondered what was next. For some reason I wished we had been asked to put our blindfolds back on.
You can read the proposal here, or just take our word for it: There's a lot of vomit. Meanwhile, we were intrigued by a vignette in which, high on cocaine and amid a drinking game related to beer pong, Mr. Lohse says he was punched in the face by a the son of a billionaire college trustee.
I went back to the frat and partied until around five AM when a few brothers of a rival fraternity showed up asking to play pong. Our pong game descended into a strange fit of masculine violence, including a "dome" drinking game where the first cups were urine (mine-my best friend drank the cups). I got into a physical altercation with one of the rival frat brothers and later realized that he was the son of a trustee. He punched me in the face. The cops were called.
The young author says the event formed the "first small epiphany" that led him to question frat culture. The billionaire's name is redacted from the book proposal posted online, and while we're loathe to pay too much attention to Mr. Lohse's drunken exploits, we do note three billionaires on Dartmouth's board of trustees: Stephen Mandel, founder of hedge fund Lone Pine Capital; Trevor Rees-Jones, founder of Chief Oil & Gas; and James Coulter, founding partner of private equity firm TPG Capital.
Anyone know who?