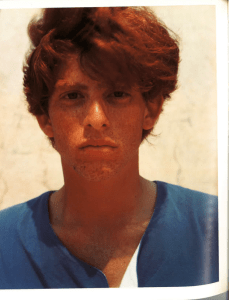 In anticipation of the Drawing Center's reopening on Nov. 3, after a year and a half of renovation, executive director Brett Littman gave an interview to Exhibition A. In it, he talks about the $10 million expansion project and three shows that will kick off the unveiling of the new digs—including one devoted to the legal documents issued when you buy a work of conceptual art. The interview really takes off with the story Mr. Littman tells of the time when, as a young man, he was photographed by Joel Meyerowitz for his 1991 book about redheads.
From the interview:
Yes, I am in this catalog called Redheads by Joel Meyerowitz. I was on a bike tour in Provincetown in Cape Cod. I had done some modeling and commercials and films at the time and ran into a girl I knew in Ptown who was a model and had been photographed by Joel for this book.  She suggested that I call him which I did. The rule was that he would take one picture and if it worked you were in the book and if it didn't work, you weren't. Fortunately, my picture was included in the book and now I am immortalized as a redhead – which is good as my hair has since changed color.
Who said blonds have more fun?