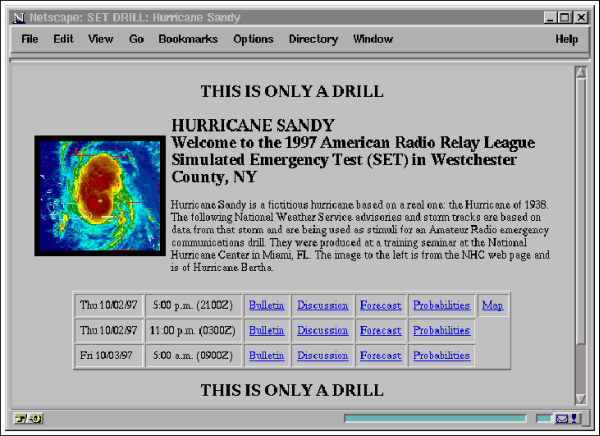 The Hurricane was named Sandy. It struck in October and took a path that brought it through northern New Jersey and New York State before the storm petered out over Canada.
This Hurricane Sandy happened in the minds of members of the American Radio Relay League (ARRL) in Westchester County, New York, 15 years ago this month.
The webpages created at the time to war game this imaginary Hurricane Sandy are still online. The main page reads in part:
Hurricane Sandy is a fictitious hurricane based on a real one: the Hurricane of 1938. The following National Weather Service advisories and storm tracks are based on data from that storm and are being used as stimuli for an Amateur Radio emergency communications drill. They were produced at a training seminar at the National Hurricane Center in Miami, FL.
The first, fake Hurricane Sandy was an exercise for ham radio enthusiasts to practice relaying vital information should a situation identical to the real Hurricane Sandy ever occur, destroying more conventional lines of communication.
The mock-ups they created of National Weather Service bulletins about the storm make for eerie reading now, as the budding superstorm forces evacuations around Long Island Sound and closes the stock exchange:
…LARGE AND POWERFUL HURRICANE SANDY MENACING THE ATLANTIC
SEABOARD…AT 5 AM EDT…0900Z…THE HURRICANE WARNING IS EXTENDED NORTHWARD
TO ROCKLAND MAINE. A HURRICANE WARNING IS NOW IN EFFECT FROM CAPE
LOOKOUT NORTH CAROLINA TO ROCKLAND MAINE.
The ARRL drill involving Hurricane Sandy certainly seems strange now, but similar coincidences have occurred in the past. After the Titanic plummeted to the bottom of the North Atlantic in 1912, someone remembered that a little known author named Morgan Robertson had written a novel many years before that was eerily similar to the tragedy.
The Observer checked Internet Archive versions of the pages related to the fictional Hurricane Sandy to ensure this was not a hoax.
They have been online and unchanged for a decade and a half.