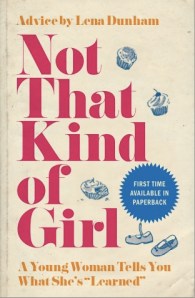 Underlying every advice book is an assumption that the author already is something that the reader wants to be, whether skinny (Bethenny Frankel), rich (Suze Orman) or rich and leisurely (Tim Ferriss).
What does Lena Dunham have that her fans want for themselves? We're going to rule out her fashion sense and her strange and limited love life, as well as her self-described "Fat Upper Pussy Area."
Aside from her charmed artsy childhood, what her admirers envy most about Ms. Dunham are her writing talent and commercial success. Yet these are the very topics that will get short shrift in Not That Kind of Girl the book, while she is otherwise occupied itemizing her 1,459-calorie-a-day intake. At least, to judge by the proposal, which is not public and therefore emphatically not for review. But what the hell—it's Lena Dunham!
Laced with her familiar self-deprecating wit and done up in colorful cupcake doodles, the proposal organizes her musings into six chapters: Work, Friendship, Body, Sex, Love, Big Picture.
More memoir than strict advice, the outline is long on anecdote and light on takeaway.
There are pages and pages devoted to her variously indifferent, degrading or just plain boring sexual encounters, punctuated by admonitions to the reader, along the lines of: Don't you go and try that now. You deserve better!
But why should Ms. Dunham have all the fun?
She says her hope in writing the book is to inspire others to learn from her mistakes and tell their own stories. "There is nothing gutsier to me than a person announcing that their story is one that deserves to be told, especially if that person is a woman," she writes.
Assuming her book is geared toward young, urban, underfunded creatives much like Hannah Horvath, more self-expression is hardly what's called for. These are the folks who devote Tumblr blogs to their own facial hair, can't make mac and cheese without Instagramming it, and post every dress on Pinterest as though it came straight from the Vogue fashion closet.
What this generation really needs is jobs that pay off their student debt. To that end, here's a more useful piece of professional advice than anything one is likely to glean from Ms. Dunham's eventual book: go learn Ruby on Rails.
Of course, Ms. Dunham is not a career coach but an entertainer. As such, she's funny, wincingly candid and supremely relatable. She really does have the BFF thing down.
But there's a way that people who mine their lives for material wind up saying everything in a stage whisper. Some of her tales begin to feel like dispatches of a life overly examined, of a brain that insta-converts every moment into a tweet if not a line of script or a paragraph in her next essay. At an S&M club in Japan, Ms. Dunham dons a vinyl nurse's outfit because "interesting people need to have stories like this."
TV shows and books—and book proposals—certainly do.