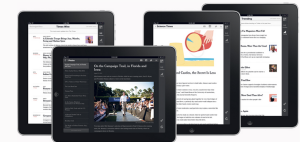 The New York Times launched a new HTML5 Web App for iPad this morning. They are calling the new app, which is only available to subscribers, "experimental." The new mobile platform is part of the "NYT Everywhere" strategy.
"We are using this as a way to give exisiting subscribers a widow into our journalism," said Alexandra Hardiman, director of mobile products at NYTimes.com. The new web app was tested on iPad-owning Times employees, and development kicked off last spring.
The app introduces new features designed for the more social media-inclined reader. A "Trending" section shows the top 25 Times articles that are trending on Twitter within the previous hour and "Times Wire" shows a "continuous, reverse chronological feed of the latest articles, videos and slideshows published on NYTimes.com."
For traditional readers who long to recreate the feel of paper and ink without smudging their hands, there is still a format with sections organized under print topic headings.
But perhaps the best feature for the newspaper is that the app is accessed and downloaded directly from Safari rather than through Apple Newsstand. This handily avoids giving Apple the 30 percent fee that they charge for native iPad apps.
Does this mean that the newspaper is trying to do away with the Apple newsstand entirely?
"We do very well on Newsstand," notes Linda Zebian, a Corporate Communications Manager at the Times. "We have no plan to eradicate Newsstand."
"We have a big investment in both camps," Ms. Hardiman said.
Will the app be available for non-Apple tablets?

Although there is no plan right now, Ms. Zebian told us that at some point in the future it will be.
"We are not biased," she said.