If the cover of this week's New Yorker looked familiar, it may be because you saw The New York Observer back in May of 2005. The illustration for our cover story on Angelina Jolie, by Victor Juhasz, showed Ms. Jolie getting the names of her former paramours crossed off her arm by a tattoo artist. The current cover of The New Yorker depicts Mitt Romney in the tattoo chair as he gets his policy positions erased from his shoulder.
Now, we are not saying Barry Blitt (who, as a side note, used to draw for our paper) copied us–both Mr. Blitt and Mr. Juhasz were no doubt inspired by one of the more perplexing Norman Rockwell paintings–"The Tattoo Artist."
Mr. Blitt explains as a much in a New Yorker blog post: "My grandfather was a Sunday painter, he used to copy a lot of Norman Rockwell paintings, so I was aware of all the classic images at a very young age."
However, we would still like to note the striking coincidence. View a larger comparison of the covers below.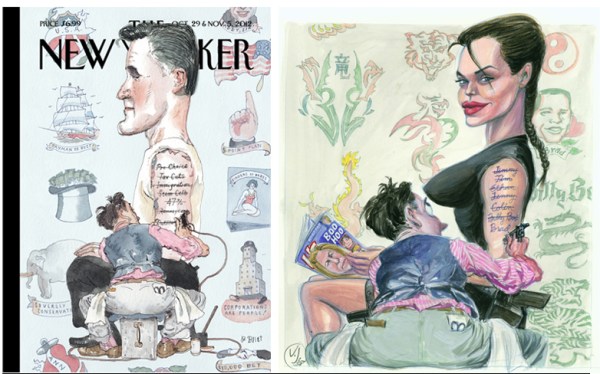 Update (2:28 p.m.): The story originally said that the Angelina Jolie story ran in July of 2005. It actually ran in May.