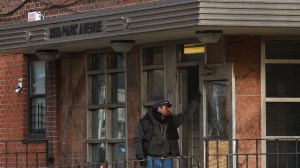 We received a press release yesterday heralding the release of a new film. It read: "740 Park, the bestseller by Michael Gross, becomes Park Avenue: Money, Power and the American Dream."
This struck us as odd because we had, in fact, heard about this documentary before, but described in a very different way: the famed building would be used as a foil for Park Avenue in the South Bronx, as a means of discussing income inequality in America. This had seemed to us like a very good idea. Not that we wouldn't also like to see Michael Gross's engaging social history become a movie (or an inspired-by Dallas-style TV show that would blow 666 Park and its many real estate inaccuracies out of the water), but that would be a very different movie indeed.
This was, of course, the same movie we had heard about, a movie that is described more accurately and evenhandedly, we discovered through some extensive googling, on the Independent Television Service website. But back to that first release and how its spin got under our skin.
To be fair, The Observer would seem to be the ideal recipient of such a release. We spend most of our time studying the habits, particularly the real estate purchasing habits, of rich people, mostly extremely rich people. We live in a glass house and we are standing here before you with a stone in our hand and we are going to throw that stone. But this isn't about us, or the movie, or any particular person. This is about systemic, structural and pervasive income inequality and how, even in promoting a movie about income inequality, it is all too easy to (and we're discovering this as we write this post) manifest the inequality between the rich and the poor.
See, we just did it by using the common construction "the rich and the poor." Why do the rich get to come first? Because they always come first? And we just did it again. Why didn't we ask the question of "why do the poor always have to go last?"
It's a good question. One that we hope director Alex Gibney's Money, Power & The American Dream will answer. To a degree, we suppose, the movie has already answered the question with its title. We feel a surge of excitement when we read that title, a surge we would not have felt were it titled Poverty, Impotence & The American Dream. We like action. We like bootstraps and pulling. We like to hear about it when people take things; most of us would like to be the kind of people who take things. Control, money, America!
Even if those people take too much and ignite our outrage, we still want to hear all about it. Who doesn't love a good, filthy rich villain? Which helps explain our worship and focus on the haves rather than the have-nots. We like to look at what the richest people have and do because we ourselves would like to be those rich people. And who knows, given the right lucky break we could be those rich people. We identify with the rich, even if they don't identify with us. The poor, well, who wants to identify with the poor? And no one aspires to poverty (although some do aspire to asceticism). It's the whole What's the Matter With Kansas problem.
In any event, the release for movie, which looks very good by the way, and which we have not yet seen, and which in aggregate with many other such movies might, we hope, change the way we see these things and through that, society, illustrates just what an uphill battle this will be.
First off, the release informs us that this movie is based off of Michael Gross's 740 Park, which is a favorite of this newsroom. The problem is that the movie is about inequality, so it's only partially based on 740 Park. The other half is based on Park Avenue in the Bronx. Which is a much larger and harder-to-describe in pithy press release terms. It does not, to our knowledge, have a definitive text written about it. And certainly not a bestselling definitive text. But we digress… the point is, we completely understand why this release is so 740 Park-centric, but there's something unsettling about promoting a movie about these two very different Park Avenues via a release that tells us, in the headline, it is about only one of these Park Avenues. The rich one.
The release goes on to tell us that the film focuses on three residents of 740 Park: Stephen Schwarzman, David Koch and John Thain, "and investigates the link between their great wealth and American poverty as represented by Park Avenue in the Bronx, which runs through the poorest Congressional district in America."
The rest of the details in the release focus on PBS's Why Poverty? "a multi-million-dollar series of films examining issues surrounding global poverty" rather than telling us more about the filmmaker's exploration of the Park Avenue no one ever talks about in the South Bronx.
To the filmmaker's credit, it's a fascinating juxtaposition, and displaying the connection between the divergent fates of the two Park Avenues is a big step toward lessening that divergence. The movie, as described in the ITVS write-up, is said to examine these very things. Wealth concentration means that one side of the story is almost always more engaging and easy to tell, with its big personalities and sexy properties, whereas the other side's story is harder to pin down and tends to be told in dull and wonky ways. But if you have a movie that, at least from everything we can tell, focuses on the latter as well as the former and at least attempts to do it well, why not celebrate that?
kvelsey@observer.com