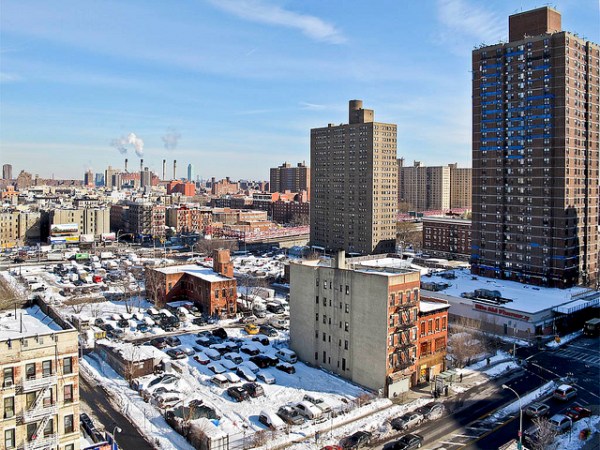 Yesterday, in a unanimous vote 47 years in the making, the Seward Park Urban Renewal Area has finally been approved by the City Council. SPURA, that massive parcel of barren (or in City Council speak, "under-developed") city-owned land in Lower Manhattan, will now become a 1.65 million square foot mixed-use development. It's a change that, according to the project's backers, will create 1,000 housing units, 1,000 permanent jobs and 5,000 construction jobs.
"Seward Park has long had the potential to bring new jobs, new housing and new retail options to one of New York City's most vibrant neighborhoods," said Mayor Bloomberg. "Today we know that that potential will be realized. After nearly half a century of sitting dormant, this piece of real estate – some of the most valuable underdeveloped land anywhere – will finally be transformed. Thanks to an historic and unprecedented community planning process, the plan that is moving directly reflects the input of residents, community members and other stakeholders."
The plan delineates a 60/40 mix of residential and commercial space; creates 500 units of permanently affordable housing for low-, moderate-, and middle-income households, as well as senior housing; and allocates 15,000 square feet of publicly accessible open space. It also allows for the the expansion and relocation of the Essex Street Market to a new site, which has the potential to double the number of small businesses currently operating at the market.
All of which is no small feat. The details above, all represent many large and small political compromises from the community'—some of whom have stood in opposition to the project from the start—from the community board, and from within the council. With any project this large no solution is a perfect one.
The Coalition to Protect Chinatown & Lower East Side is certainly keeping its eyes on the imperfections. Today they are meeting to hold Council Member Margaret Chin and Mayor Bloomberg accountable to their demand of building 100 percent low-income housing on the SPURA site. In their hands they have a petition with more than 8,000 signatures on it and a developer, Ben Wong, who has pledged to build just such a development if he can. Mr. Wong, founder of the Wok n Roll fast food Chinese chain, is currently out of the country but JoAnn Lum, a Coalition representative, confirmed for The Observer that he would still be submitting a plan in early 2013 under the cities developer Request for Proposals (RFP).
Councilwoman Chin is still pleased with the results, though. "This is a victory for the Lower East Side and for the City of New York," she said yesterday. "This development will aid under-housed, low-income individuals in our community by providing significant opportunities for affordable housing both on and off the SPURA site…I am confident that the SPURA development will reinvigorate the surrounding neighborhood while creating much needed affordable housing in our community."
The city will now move forward drafting it's RFP, where it will meet with a task force designated by Community Board 1, continuing the partnership with the local stakeholders to determine what, exactly, should go on the site.
So if you're a fan of under-developed city-owned land and the eery quiet that can come from standing in a utility parking lot after dark, you should probably head down to the SPURA site now. Because, regardless of what side of the debate you're on, one thing is for sure, after SPURA this part of town is never going to be the same again.