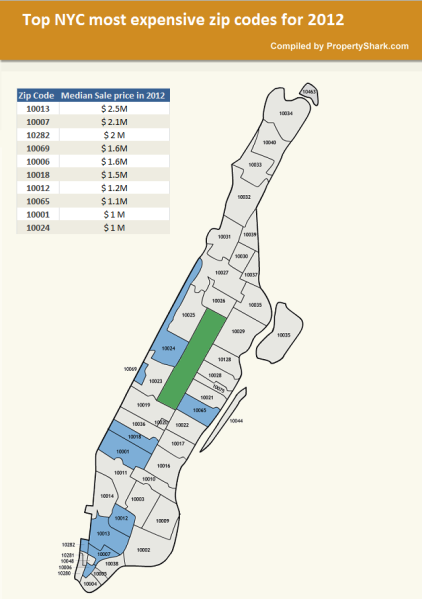 We don't like to gloat, but in this case we just couldn't help it. We told you so Forbes! As The Observer argued when the magazine released its headline-hogging Most Expensive Zip Code list, the Upper East Side zip code 10065 was almost certainly not the nation's most expensive zip code. Now there's data to prove it.
According to a new report from the number crunching wizards over at PropertyShark, the Upper East Side is not even New York's most expensive zip code. And PropertyShark's report includes co-ops. Unlike Forbes'.
As we pointed out when the Forbes numbers were released, looking at New York property sales without considering co-ops isn't really looking at New York property sales at all. If you exclude rentals (which is where the majority of New Yorkers lay their heads at night), co-ops make up three quarters of the housing stock in Manhattan. Even considering the fact that condo sales are brisker than co-ops these days, that's an unforgivable omission.
PropertyShark also takes Forbes to task for looking at asking prices rather than closed transactions—while asking prices are a way of measuring the market, they reflect hopes and dreams more than reality. These days even sought-after, fast-selling properties often go a little under ask. Indeed, PropertyShark found big discrepancies between ask and get in zip code 10065. The median ask, according to the Forbes data, is $6.5 million, while the median get, according to PropertyShark is $1.6 million if you don't include co-ops. Adding co-ops lowered the median closing in the zip even further, to $1.1 million.
In all of the city's 10 most expensive zip codes adding co-ops to the calculations dropped the median closing price significantly.
So which neighborhood takes the crown in PropertyShark's estimation? Tribeca! In fact, the top three—10012, 10007 and 10282—are all in Lower Manhattan. The Upper East Side's 10065 comes in a lowly eighth. Maybe 10065 can at least take the award for most dramatic performance. Or should that honor go to Forbes?