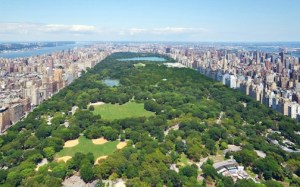 These days hard hats are the non plus ultra of chic accessories. They make a Birkin bag look so pedestrian! And having one's hair coiffed and colored to perfection at Frederic Fekkai is all well and good, but it's nothing without the windblown disarray that one achieves from standing on a high floor of an unfinished skyscraper.
Yes, the best way to show off one's money, powers of persuasion and impressive social connections is scoring a ride to the top of One57 or One World Trade Center. (Any other building that begins with "One" and recently had a topping out ceremony would also be a good bet). Why bother dropping names when you can drop an experience that illustrates you know all the names worth dropping?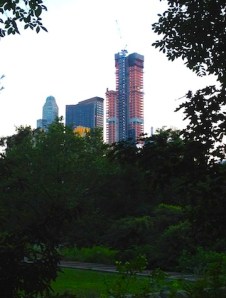 Of course, visiting an open construction site is dangerous and the developers are naturally hesitant to allow guests to do it, but Extell and Durst have been known to arrange things for the right people.  Gary Barnett has been taking billionaires up in the construction elevators, sealing the deal with the breathtaking view of the city beyond the orange plastic netting, according to The Real Deal. Undoubtedly the exhilaration of taking in unmatched vistas and frightening winds might persuade a buyer left cold by renderings and promises. Sotheby's broker Nikki Field, who has, of course, been to the top, even told The Real Deal that one prospective buyer was so excited by the invitation that he flew into New York just to visit the construction site.
And while One57 may not be as wow-worthy as One World Trade Center, it is definitely more exclusive. As a Port Authority spokesman told The Wall Street Journal this summer:
"The World Trade Center site is a place of special significance for the region, the country, and people abroad. As such, we are always willing to accommodate tours when schedules permit us to give access to this remarkable project."
Willing to accommodate tours when schedules permit isn't exactly "come one, come all!" but it lacks the frisson of a firm no, followed by a whispered aside that on certain occasions, for certain visitors, exceptions might be made.
So who gets to go? It wouldn't be very exclusive if names were named, now would it? Certainly mere millionaires interested in settling on lower floors are not treated to such tours. But then, why would they be? They're never have a view from the very top. Of course, the city's biggest luxury brokers have been granted a peek. And a handful of reporters ( Naturally, The Observer has been). Probably some investors. And Tommy Hilfiger is definitely invited. NY Mag even captured Gary Barnett's offer to the take the fashion mogul and his Plaza-loving wife on a tour in their recent story on One57.
Of course, only Mr. Barnett gets the ultimate accessory: a hard hat with his name on it.
kvelsey@observer.com