"The water was waist-deep," said Mr. Hadley. Eerily correct prediction from Weather Channel's meteorologist Jim Cantore.
dgrantobserver
"The water was just rushing out of the Brooklyn/Battery tunnel," said Mr. Hadley. "It was like a crazy river. My daughter's school bus goes through that tunnel every day."
dgrantobserver
"Me and my boy wading across West at peak tide," wrote Mr. Hadley. "We couldn't reach Jim's crew in Battery Park. The place I was earlier was separated by five hundred yards of water."
dgrantobserver
The front door of HGTV's 9 by Design's family home at 400 West St., marking where the water level had risen.
dgrantobserver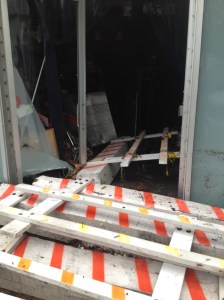 "I was joking with my friends from Seattle on Sunday," The Weather Channel's SVP of Marketing and recent New York transplant Eric Hadley told The Observer. "They kept asking what the weather was like, and I said, 'It's like a January day in Seattle.'"
The former Bing executive had a busy evening. First, "a little party" at the Standard Hotel from 6:30-8:30. ("Most guests didn't show up," he remarked.) When the lights went out, everyone went home, but Mr. Hadley had work to do, taking crews out to survey the destruction, including that of artist Mark Seliger's Charles St. studio, which had its front completely obliterated by Hurricane Sandy.

Added Mr. Hadley:
"Since we have such a great team of scientists and meteorologists, we have a pretty good idea of what the storm is going to be like a week to ten days out. We can really start to gear up: What the coverage is going to be like, where to send the people, how to talk to the advertising partners. For a lot of them, this is really a part of their business…we've got insurance guys, Home Depot, Lowe's. So we're really setting the expectation for them, to make sure that we communicate out the safety thing, and have our people in the right places."
Meanwhile, Hurricane King Jim Cantore managed to make it out of Battery Park, and will be on Letterman tonight.
(Photos via Eric Hadley)