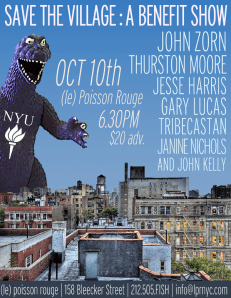 The Beats may be long gone, but protest music is alive and well in Greenwich Village—thanks in part to the institution that helped drive many of the artists out, New York University.
On Wednesday, a group of musicians, including Thurston Moore (of Sonic Youth fame) and John Zorn will convene at 6:30 p.m. at Le Poisson Rouge to help raise money for NYU Faculty Against the Sexton Plan's legal fund. Last month, the faculty group that opposes the university's expansion south of Washington Square filed a lawsuit against the city and the University trying to stop it. All proceeds from the $20 show will go directly to the cause.
The current list of performers is as follows, though more disgruntled artists could show up at any time:
John Zorn
Thurston Moore
Guitarist Jesse Harris
TriBeCaSTan
Performance artist John Kelly
Guitarist Gary Lucas
Red Baraat
Composer David Amram
MYCALE (vocal music of John Zorn)
Tickets are still available here. Love the purple Godzilla from the flyer.
Still, we can't help but wonder if a concert like this wouldn't have been more effective before NYU's expansion plan was approved by the City Council.