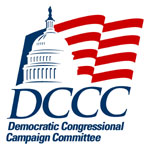 The folks at the Democratic Congressional Campaign Committee are apparently freaking out about a new national poll that shows Mitt Romney tied with President Barack Obama. After Gallup put out their three day tracking poll today showing both candidates tied at 47 percent among registered voters, the DCCC responded with a rather panicky fundraising email.
"We could hardly sleep last night. Have you seen this poll?" the email begins before showing the Gallup numbers. 
The DCCC's email, which was ever-so-subtly, entitled, "NEW POLL (bad news)" goes on to frame this as a "critical moment in this campaign."
"We've got one month left until the election, and it's clearer than ever: we will win or lose based on turnout and how well we can respond to the Republican attacks on the air. Will you donate $3 or more to win a Democratic majority for President Obama?"
Gallup attributed the tightening poll numbers to Mr. Romney's debate performance. The president held four to six point leads in Gallup's tracking polls for the eight days before the debate and a separate Gallup poll conducted in the two days following the debate found "those who viewed the debate overwhelmingly believe Romney did a better job than Obama, 72 percent to 20 percent."
Though the folks at the DCCC are clearly nervous about the poll numbers, the Obama campaign seems decidedly calmer about the situation. On board Air Force One this afternoon, the president's campaign press secretary, Jen Psaki, discussed the tightening polls, particularly in the critical swing state of Ohio. Ms. Psaki claimed the Obama campaign never expected to hold on to the wide lead the president was enjoying prior to the debate.
"We've long said long before the debate that we expected the race to tighten and we don't expect that in the polls that showed us 10 points and even more points up in Ohio that that would be the final margin," she said.
Ms. Psaki also said she was confident voters in Ohio and elsewhere would eventually decide the president would be "a better fighter for them in the White House" than Mr. Romney.
"We know there are many other states that we're going to be competing in and fighting for every last vote," said Ms. Psaki. "But the decision-making–the issues that we were debating before the campaign and the choice between the candidates has not changed. And that's one of the reasons the President's message has been so consistent, not just before and after the debate but for months."