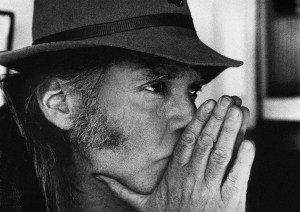 The rock-star memoir is one of those dicey genres whose success depends on exceeding the lowest possible expectations. Patti Smith's Just Kids (2010) was highly acclaimed despite her apparent belief that serious writing is principally a matter of avoiding contractions. Keith Richards's Life (2010) was New Yorker poetry editor Paul Muldoon's choice for book of the year despite being called Life. Jay-Z's remarkable Decoded was co-written with Dream Hampton, so it doesn't count. The gold standard is Bob Dylan's Chronicles, Volume One (2004), a work of freaky genius that nevertheless contains several phrases on the order of "Sigmund Freud, the king of the subconscious."
Expectations duly lowered, I was ready to give Neil Young's new memoir a chance even though it is a) titled Waging Heavy Peace (Blue Rider Press, 512 pp., $30) and b) written by Neil Young, who has always struggled with lyrics—you know, the writing words part. "That perfect feeling when time just slips / Away between us on our foggy trip," anyone?
Now, Neil Young is a colossus. He's reshaped rock 'n' roll. That maelstrom of guitar fuzz you hear in Dinosaur Jr., Sonic Youth, Built to Spill, Nirvana, or in metal bands like Horseback and Royal Thunder—Neil Young made that possible. After the Gold Rush, On the Beach, Tonight's the Night, Decade, Rust Never Sleeps—these are sacred documents.
But as sure as this old world keeps spinning round, the man cannot write a book.
Waging Heavy Peace (it helps if you mentally substitute a better title—which is to say, any other title—whenever you read those words) is as messy as the druggiest Crazy Horse solo. Unlike a Crazy Horse record, though, there's no discernible structure, just a free-associating ramble through the haze of Mr. Young's green mind. That could be fun enough, and the old man sure has some tales to tell. But the prose. Reader, the prose.
The pull quote on the dust jacket had me worried before I'd even turned to the first page:
I think I will have to use my time wisely and keep my thoughts straight if I am to succeed and deliver the cargo I so carefully have carried thus far to the outer reaches. Not that it's my only job or task. I have others, too. Sacred things that I need to protect from pain and hardship, like careless remarks on an open mind.
Ah, the weird Victorian transmissions of the amateur writer. Who says "I so carefully have carried thus far"? Why both "job" and "task"? What does the last clause modify? What could it mean for a "careless remark" to be "on" an "open mind"?
Indeed, there is not a hint of inspiration on any page of Waging Heavy Peace, nothing to indicate that Mr. Young has any idea that sentences can do more than impart basic information: "There is a lot of misinformation about ethanol." "The production of the concert got some awards as well and was seen as bold at the least. That made [the producer David] Briggs and me feel pretty good. The movie we made of the concert is one of my favorites." "I got a few sexually transmitted diseases and started to become aware that there was a responsibility connected to the decisions I was making." "We had some really great times, David and I! That was only one of them! I am laughing my ass off right now just thinking of the fun we had! How lighthearted."
No one expects belles-lettres from rock stars, but it's depressing to learn that one of your heroes writes like a composition student aiming for the earnest tone of a public service announcement. Without a wink of irony, Mr. Young will exclaim "That's life!" or end a chapter with "The sky was the limit." Compare Mr. Dylan in Chronicles:
Once when I was lying on the beach in Coney Island, I saw a portable radio in the sand … a beautiful General Electric, self-charging—built like a battleship—and it was broken … I had seen a lot of other things broken, too—bowls, brass lamps, vessels and jars and jugs, buildings, buses, sidewalks, trees, landscapes—all these things, when they're broken, make you feel ill at ease.
This is mysterious, haunting in a way that's reminiscent of Mr. Dylan's best songs, even though he's describing one of his worst ("Everything Is Broken"). It's not a coincidence that Mr. Dylan spends pages hyperventilating over Rimbaud and Byron and Faulkner and Coleridge, while the only indication in Waging Heavy Peace that Neil Young has ever read a single book comes when he mentions buying a used Clive Cussler novel.
Soft target, you say? Well, the guy did write a book, and he is asking you to throw 30 of your clams at it. But all right, what about the content? Turns out it's the extension of form. Mr. Young is never more frustrating than when he finally threatens to get to the good stuff. "It's better to burn out than to fade away" serves as the epigraph to a chapter that begins by noting that line's relationship to both John Lennon and Kurt Cobain. But Mr. Young has little to say about Lennon or Cobain. The chapter devolves into a mash note to Jimmy Fallon.
Playing guitar with Charlie Manson merits a couple of perfunctory paragraphs. After Katrina, Neil gets a call from his "old friend Bruce." It's Bruce Springsteen! On the phone with Neil Young! What did they talk about! Who knows! "There is no need to go into what two old friends had to say to each other at this point." Right. Unless you're trying to write an interesting book.
Instead, if you read Waging Heavy Peace, you will learn more than you ever wanted to know about model trains and old cars, Mr. Young's obsessive hobbies. You will thrill to PowerPointillist descriptions of his business meetings. You will be told that all good things must pass, but no one knows why. You will be made to feel guilty about listening to MP3s. You will wonder just how many sentences in a single memoir can begin "Anyway …" You will marvel at the wonders of the Lincvolt. (I think this is a kind of electric car, but it is so boring to read about that I learned to start skimming whenever the word "Lincvolt" loomed in my peripheral vision.)
And you will find it affecting, to listen in as this aging artist mourns his lost friends, as he worries that the cloud on his MRI presages the dementia that felled his father, as he likens his 40 years of drug and alcohol use to a big sleep. The simplicity of the prose befits these moments: in a chapter devoted to heroin casualties, we learn that when producer Jack Nitzsche overdosed, "I was on the road. I didn't know what else to do, so I just sent flowers."
The chapter should have ended there. But Neil Young cannot resist what Greil Marcus once called the "traditional Neil Young sappiness," so we get some guff about life in full bloom and having faith when darkness falls. It's easier to forgive the sap when a galaxy-spawning guitar solo is around the bend. If you really want to wage some heavy peace, do yourself a favor and put on "Cowgirl in the Sand" or "Hey Hey, My My." There's little ragged glory to be had from this open mind's careless remarks.
editorial@observer.com