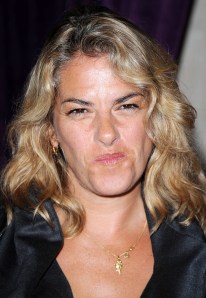 Count Tracey Emin among the artists who enjoy using the iPad to work.
In a new book out in Britain, Big Questions From Little People, which has children asking famous people important questions, she said that she finds a different range of expression in the device, much like longtime iPad fan David Hockney.
From the book:
I wake up most nights between 1 a.m. and 3 a.m. and stay awake for around two to three hours. That's when I would most like to work but I can't because even though I am awake I am not awake enough to get dressed and go to my studio. But now I have an app on my iPad that lets me draw. The drawings are very different from my usual style because I do them with my finger and I am still a little sleepy so the drawings come from another part of my brain. Also they are very throwaway, so I feel freer.
Thanks to Criticismism for pointing us to this.