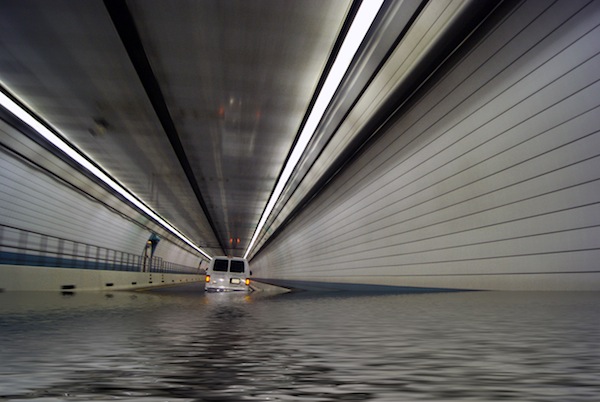 Governor Cuomo just announced that the Holland Tunnel and the Brooklyn-Battery Tunnel will be closed at 2 p.m. today because they would be the most prone to flooding. There was no mention of the Lincoln Tunnel, which presumably will remain open and could be the one life-line for Manhattan as the bridges will also close should wind speeds surpass 60 miles per hour. Earlier today, a wind speed of 51 miles per hour.
"As a precaution, those bridges will be closed today at 2 o'clock," Governor Cuomo said during a press conference in Lower Manhattan. "The bridges will remain open at this time until we see 60 mile per hour winds. Weather forecasts suggest winds of up to 90 miles per hour, so people should keep an eye on that. The situation may be updated as we go throughout the day."
MTA chairman Joe Lhota said the Queens-Midtown Tunnel is expected to stay open unless serious flooding becomes apparent and threatens the tunnel, which has never happened in the past. "The Midtown tunnel has never been closed before for wind conditions or flooding before," Mr. Lhota said. "The Midtown tunnel was made account. However if we believe any flooding is coming in from 37th Street or from the Queens side, if we think that will happen, we will recommend to the Governor we should close."
So Manhattanites could always escape to Queens if need be, loathsome as that might be.
The governor stressed that New Yorkers should keep the roads clear so emergency vehicles can get around. "Use common sense," Governor Cuomo said. "Citizens should not be on the roads, you really do not need out, we need to keep the roads free, there are emergency vehicles on the roads, they need to allow emergency vehicles access, you do not need to be going to the beach to take pictures, you really don't."
"Don't be fooled, don't look out the window and think it's not so bad, the worst is still to come," he continued. "So keep yourself safe and use common sense."
This post was updated at 11:05 with additional information from the press conference.