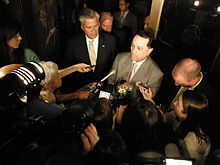 As expected, former State Senator Pedro Espada, who helped lead New York's government into a unique form of chaos with his wheeling-and-dealing in 2009, plead guilty in federal court today to stealing from a non-profit he controlled. When sentenced, Mr. Espada will face up to 43 years in prison, in addition to "forfeiture, fines, and restitution in excess of $2 million," according to a press release sent out United States Attorney's Office Eastern District of New York.
"Today's guilty pleas signal the end of an era," U.S. Attorney Lorretta Lynch said in the statement. "For years, Pedro Espada Jr. betrayed the trust of the people of the Bronx by taking money designated to provide health services to a struggling community and using those funds to prop up his own lavish lifestyle. Soundview clinics were unable to pay personnel and could not obtain vital medical equipment, because Espada siphoned off funds to pay for luxury cars, spa treatments, sushi dinners and vacations. In keeping with his pattern of fraud and deception, he lied to the federal government as well, filing a false income tax return that failed to declare money he stole from Soundview and money that he made from the sale of real estate."
Gautier Espada, Mr. Espada's son, also plead guilty to stealing from the same nonprofit today. He faces a lesser sentence, up to two years' imprisonment, hoewver.
"Far from the 'black magic' Espada previously blamed for his conviction, today's guilty pleas illustrate that these defendants were brought down by their own greed," Ms. Lynch continued. "Having admitted their betrayal of trust, they will now be held accountable for their actions.
Update: Governor Andrew Cuomo has also weighed in with a statement, and it looks like he found today's plea rather vindicating.
"Nearly three years ago, my Attorney General's Office brought a case against then Senator Pedro Espada for looting his taxpayer-funded not for profit and abusing his position of public trust," Mr. Cuomo said. "Mr. Espada's reaction was to lash out again and again and to falsely disparage and accuse my Office of engaging in a politically-motivated witch hunt. Today, I give Mr. Espada the last word – when he says, 'guilty.'" 
View the full announcement below:
[scribd id=109843992 key=key-1oxde7uxphge8w7ujfjb mode=scroll]