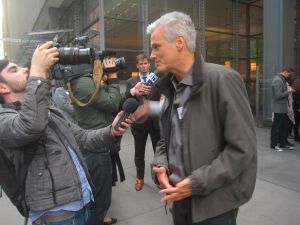 At 3:35 this afternoon, an estimated 400 rank and file members of the New York Times union left their desks for a walk-out that began on 40th Street, headed up Eighth Avenue and turned right on 41st. As the crowd reassembled outside the north entrance to Times headquarters, union organizers such as columnists Jim Dwyer and Michael Powell gave interviews to camera crews and reporters from other organizations that had descended on the scene, hoping for something dramatic like rock-throwing or a chant.
Instead the mood was calm and collegial. The protesters wore white stickers with the words "Believe Us" printed on them. At one point after they reassembled, they applauded themselves for a rousing show of solidarity. A similar walk-out of about 23 union members took place at the company's Washington, D.C. bureau today.
The union is in a heated contract dispute with Times management, which wants a new contract hammered out and approved by the union by the end of the year. Sticking points include compensation, health benefits and overtime pay, all of which the union feels should increase, rather than decrease, over time. But the union feels that management has taken only baby steps to toward meeting its demands.
There has been no threat of punishing the protesters, Times Assistant to the Editor Walt Baranger told The Observer outside headquarters today. "News management gets it," Mr. Baranger said. "We're really talking to the boardroom — the people who don't understand that journalists are not interchangeable."
Union members feel that they've already sacrificed enough — they took a 5 percent pay cut in 2009 and their overtime pay has fallen by half since 2008. In the meantime, editors, reporters and web producers have been scrambling to create digital content–"doing more, but making less," according to an online protest letter addressed to Times management.
Newspaper analysts argue that newspaper companies have suffered such a steep decline in revenues of late that they must cut back on benefits such as pension plans to maintain profitability. On the contrary, the Times union organizers believe that the only way to continue producing top-quality journalism is to compensate the content producers fairly.
"Most of the people who walked out have shares in the company," Mr. Baranger noted, aligning union members with other shareholders. "We're motivated to get the shares back up and save the paper."