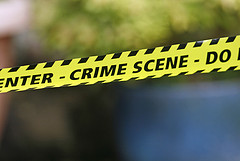 An Upper West Side mother came home to her La Rochelle apartment on Thursday and was confronted with a nightmare come true: two of her children brutally stabbed and bleeding in a bathtub and the children's nanny nearby, bleeding from wounds in her throat.
The children later died.
The New York Times reported that the middle-aged nanny was transported to NewYork-Presbyterian Hospital/Weill Cornell Medical Center where according to some reports she was in stable but critical condition. Police say a bloody knife was found near the injured nanny and that she is a "person of interest" in the deaths of the little girl, age six, and the two-year-old boy.
The Times interviewed another resident of the posh apartment building who witnessed the harrowing moments after the children's mother discovered the scene:
"There were bloodcurdling screams from a woman and man's screaming," said Rima Starr, who lives down the hall from the victims' second-floor apartment. Ms. Starr recognized the man's voice as the building superintendent. She heard him yelling: " 'You slit her throat! You slit her throat!' The mother's was just bloodcurdling screams."
Ms. Starr also told the Times that the mother was "in a psychotic state" and "just screaming and swaying."
Reports indicate that after entering her dark apartment with her three-year-old child in tow the mother asked the building's doorman if he'd seen the nanny leave with the other children. When the doorman said no the mother returned and found the gruesome scene in the bathroom.
Police believe the nanny slit her own throat after she stabbed the children.