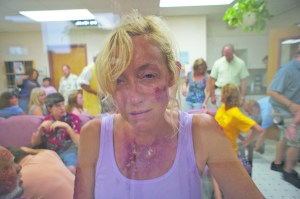 A horror film by the estimable, sober-minded Barry Levinson? Why not? The veteran director of such earnest endeavors as Rain Man, Diner, Bugsy and Sleepers has always entertained a lighter streak. He began his career writing The Carol Burnett Show, and Wag the Dog was a political satire. But a genuine hair-raising creature feature is a real departure. Say hello to The Bay.
Using the time-tested conceit of "found footage" popularized by films like The Blair Witch Project and Paranormal Activity, the meticulous Mr. Levinson, with the urgency of a naturalistic screenplay by Michael Wallach and appealing performances by a cast of unknowns, has created a chilling sense of cinema-verité panic that keeps you spellbound and enlightened at the same time. The found-footage horror concept is usually restricted to tales of the supernatural, related after the fact. This is the first time I've seen it used to reveal an ecological catastrophe, showing the phases of a natural disaster and a government cover-up through multiple media sources, webcams, closed-circuit cameras, cell phone footage, news reports, video coverage by a rookie intern on a morning TV show on her first assignment and various victims whose goal is to tell the surviving world what really happened. The facts that emerge baffle the Coast Guard, the FBI, the Centers for Disease Control and Homeland Security. Your hair will stand on end. 
What happens is harrowing enough to make tough guys tremble. On a peaceful sunny Fourth of July, at the annual Chesapeake crab-eating spectacular in the quaint bayside town of Claridge, Md., 350 revelers are suddenly stricken with food poisoning. As ambulances form gridlocks to rush people to local hospitals, the victims multiply, their bodies covered with boils, lesions, blisters. The death toll mounts to 700 as what is first believed to be a bacterial plague is unleashed, and the panic spreads, all of it captured by Donna Thompson (Kether Donohue), a naive communications major employed as a summer intern for a local TV station. Dispatched to capture local color of carnival rides and pie-eating contests, Donna gets the scoop of a lifetime. The story is told during the 24-hour period when it is happening, which gives Mr. Levinson leverage from different visual sources—i.e., mobiles, 911 calls, hand-held videos—and is also narrated in retrospect, after Donna has spent three years editing all of her research and defying the authorities who demand she destroy her reportage. Contrasted with the ghastly evidence of a plague that reaches epidemic heights, the movie builds clues to a thrilling mystery even the experts can't solve.
So what is going on here? While the gruesome physical horrors are shown in unflinching detail, a parallel narrative unfolds involving two oceanographers from the University of Maryland doing environmental research on contaminated water in the bay, which contains enormous levels of toxicity from the sewage from a nearby chicken factory. Just how much pollution lies in the darkness beneath the surface is anybody's guess, as the researchers' bodies turn up with teeth marks indicating a shark attack. Theories abound. Is it a terrorist plot? Are drugs and hallucinogens involved? Biological warfare? The highways are gridlocked with terrified motorists trying to evacuate. What emerges in the video diaries of the two dead scientists, suppressed by politicians running for re-election and federal agencies trying to avoid mass hysteria, is worse than any school of tiger sharks.
Slowly, creepily, The Bay grows into a full-out attack on the senses, showing the fate that awaits a doctor who locks himself in the intensive care unit, a group of fishermen who encounter an isopod at sea, a young couple with a baby who arrive in Wilmington to watch the fireworks and encounter empty streets littered with corpses, even the cops who meet violent deaths inside a dark house full of zombies. You thought Jaws was bad. Wait until you meet what's waiting in this town's water supply.
The irreparable damage The Bay could do to Chesapeake Bay tourism is yet to be determined, and you may never eat another soft-shell crab as long as you live. Still, the impact of Barry Levinson's eco-apocalyptic nail-biter is undeniable, especially when you realize some of it is based on fact. Best of all, I applaud the director's triumph of intimate terror over preposterous puppets and noisy computer-generated effects. In The Bay, the mayhem is both fresh and thrilling.
rreed@observer.com
THE BAY
Running Time 85 minutes
Written by Michael Wallach
Directed by Barry Levinson
Starring Kristen Connolly, Jane McNeill and Christopher Denham
3/4