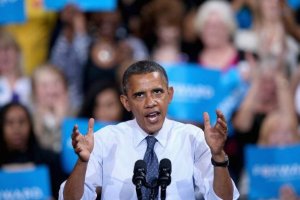 Yesterday, it was revealed President Barack Obama's re-election campaign may have improperly used Greenburgh Town Hall, a government property in Westchester County, to conduct weekly phonebank operations without paying to use the space. Although the partisans, "White Plains for Obama," agreed to retroactively pay rent after confronted by the New York Post, local Republicans aren't satisfied. In a statement released this afternoon, the county's GOP chairman Doug Colety declared Mr. Obama's campaign was "caught with their hand in the cookie jar" and needs to face the scrutiny of the law.
"The taxpayers of Greenburgh are being ripped off by the Obama campaign and Greenburgh's Democratic leadership and I am calling on the New York State Attorney General to conduct a full investigation to see if any laws are being violated by this clearly unethical behavior," he said. "Taxpayers have a right to know that public facilities are not being used for partisan political campaigns and no municipal building should ever be converted into in a campaign headquarters for any party."
He added, "It is critical that the Attorney General step in to answer important questions, including whether any town employees were used to keep Town Hall open for the evening phonebank and whether any laws were broken in the process."
Mr. Colety's thoughts were echoed by other GOP officials in the area. For example, Arthur DeRuve, a member of the Westchester County Republican Committee, told the Greenburgh Daily Voice that the entirely Democratic town board's decision to approve the campaign activities was probably political and "an outrage."
"If he's doing something illegal it should be investigated," Mr. DeRuve said.
We've reached out to Attorney General Eric Schneiderman's office and will update if they have any comment.