You can hide a lot of medical supplies under your hazard suit and just say it's "part of the costume." (Via
arthaey
)
At least you'll keep dry, and if you're knocked over by heavy winds, you'll have a giant metal helmet to protect you. (Via
mundoo
)
Just carry a bunch of food around with you at all time and wait for the end of the world. Use your garage full of dead animals for warmth and sustenance when things get desperate. (A&E)
Just let the wind carry you wherever you need to go. Keep an extra supply of toilet paper, and watch out for pointy debris and people who thought that movie sucked. (Touchstone Pictures)
What is Fox planning for the future of its Marvel movies?
20th Century Fox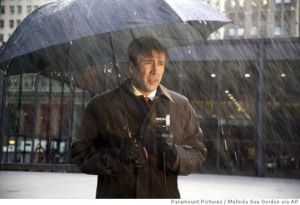 Jamaica was almost ripped in two yesterday when a Category Two hurricane named Sandy blew through the Caribbean. One woman in Haiti died after being swept away by super-strong tides caused by the 105 mph winds.
The good news? It seems to be slowing down. The bad news? It's headed straight for New York, along with a huge winter storm. Hence, the "Frankenstorm." The even Breaking Badder news? It's probably going to hit the day before Halloween.
Here are some costume ideas to help you prepare for your night of revelry/potential natural disaster.