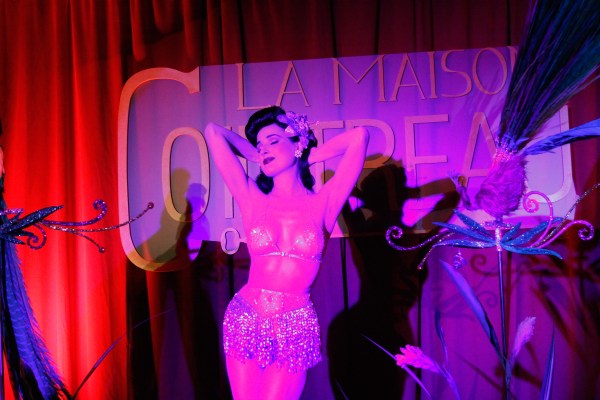 Braving the elements on a rainy October Monday, we headed to the West Village for a Cointreau-cum-cabaret soirée headlined by the inimitable Dita Von Teese. As we ascended the spiral staircases, cocktails were being served up at every corner by bartenders who were far more … enticing than the limp canapés on offer. 
Propping up the bar was a friend and longtime fan of Ms. Von Teese, power blogger-turned-internet celebrity Perez Hilton. "Nobody is as good at burlesque as Dita Von Teese," he gushed. "She really is the best in the world, and she's the only person to have ever performed at my birthday party twice." Dressed down in a long-sleeved T, the stargazer revealed that he is planning to stay in the city a while longer, having been seduced by the Manhattan party scene. "I love a good scandal!" he laughed, although for an event in which there was near-nudity and an endless supply of stiff drinks, a little more bad behavior wouldn't have gone amiss.
The interiors were the real star of the evening, with the intimate feel of the Hudson Street townhouse going over quite well with the guests. "I love it here, it's very quaint," pouted human Barbie doll Yasmine Petty, who left little to the imagination in a dress that had seemingly undergone a vicious scissor attack. Ms. Petty couldn't talk for long, however, as she was swiftly moved to the front of the performance area to watch the evening's entertainment.
MC Lady Rizzo led the cabaret by singing a couple of numbers, but the raucous, Cointreau-soaked crowd mercifully drowned out her caterwauling, as well as the peculiar tantric séance-esque glass playing of Johnny Rogers. Not knowing quite how to react, the audience were already worshipping at the altar of Dita by the time Ms. Von Teese made her way through the crowd. As ever, her performance was a delight, although this particular routine was less Parisian couture, more Copacabana with stuffed birds of paradise and jaunty beach music. "The show is quite a departure from what I usually do," the artiste explained. "I wanted to do something with a 1940s tropical theme, as some of my favorite films are from that era." After one final shake of her nipple tassels, the guests were promptly thrown onto the rainy street with our coats after a rather calamitous cloakroom disaster, although watching the partygoers scrabble over their furs proved to be the best entertainment of all.
clytton@observer.com