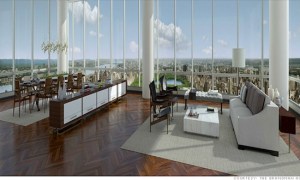 You might think that life would be impossibly pleasant for the set wealthy enough to buy magisterial spreads on the top fifteen floors of One57. But The New York Times reports that a potential storm is brewing on the building's uppermost floors. Extell is deeply concerned that members of the "billionaire's club"  will clash with each other as they undertake massive renovations to the yet-to-be finished spaces.
Which makes us wonder, can you even call such undertakings renovations when the building won't be ready for move-ins until 2013? Alas, regardless of what you call them, the super rich do like to give their trophies a super special, personalized shine.
Apparently, there have been no dust-ups of yet between the residents who won't live there for another few years (if they even live there at all!) but Extell president Gary Barnett is worried that his buyers with the biggest bank accounts—who by and large want to bring their own designers and architects in to customize the floor-throughs they're buying—may cause all kinds of headaches, making the top floors an ongoing construction zone.
"We don't want our people who are buying and accepting our finishes to be sitting there for three or four years while tons of construction goes on in the building and people build out their spaces. It ties up elevators and creates dust and noise," Mr. Barnett tells The Times.
Indeed, while it can be charming to have neighbors as filthy rich as oneself, putting so many outsized egos in such close proximity can cause problems. And, while buyers of the building's fanciest pads certainly don't limit themselves to one residence, there's more than a passing possibility that some of the world's wealthiest will be angry about neighbors who take as many liberties with the building as they do. After all, co-ops do have summer work hours for a reason.
To try to head the headaches off, Mr. Barnett is now trying to sign contract with the provision that Extell do most of the heavy construction work as it's finishing the building.
At least not all buyers are set on customizing the space—some are more focused on the flip. One of the top-floor buyers is Michael Hotlz, the multi-millionaire who owns the SmartFlyer travel agency and once owned an apartment in 15 Central Park West where he never lived and quickly flipped for almost twice the price. Although he did admit that he was quite taken by One57's charms.
"This is going to be a hard one not to live in," Mr. Holtz told The Times. "Maybe I will stay, maybe I won't, maybe I'll rent it. It really depends on what mood I'm in."
Well, thank goodness that merely rich residents of the lower floors are expected to keep the building finishes done by Danish designer Thomas Juul-Hansen.
kvelsey@observer.com