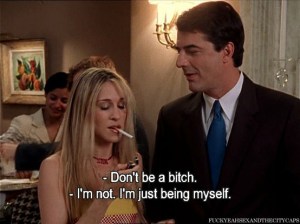 Earlier this morning, a tormented wail rose up from Magnolia Bakery and spread throughout the city, stopping at Manolo Blahnik's Fifth Avenue flagship before seeping out to the rest of the country.
When authorities finally calmed down the hysterical populace, they were able to determine that the mass cry of despair was not over our national unemployment rate, or even the possibility of giving Ron Paul the keys to the economy. It wasn't Libya, or the fact that the Fast & Furious franchise has just given up on trying to name its films.
No, it was much worse, for a major trade publication had announced that there might not be another Sex and the City movie.

From The Hollywood Reporter:
Asked by The Hollywood Reporter if she is hoping for a third film, Cynthia Nixon — who stars in the World Without End miniseries, which debuts Wednesday night on ReelzChannel — replied: "No, no. I think we had a wonderful ride. I think it's fine to let it go."

But Nixon isn't the only star uninterested in another film. Her comment echoes those made last year by Chris Noth (Mr. Big).

"I don't see Sex and the City 3 happening," Noth, who now stars on The Good Wife, told Parade magazine. "I'm not disappointed if they don't. I miss the early days before it became sort of a circus of attention, when it hadn't become this iconic thing."
A rending of garments resumed across the nation, and the threat of mass suicide loomed in the air till someone reminded the country that we still had the CW's upcoming The Carrie Diaries to look forward to.